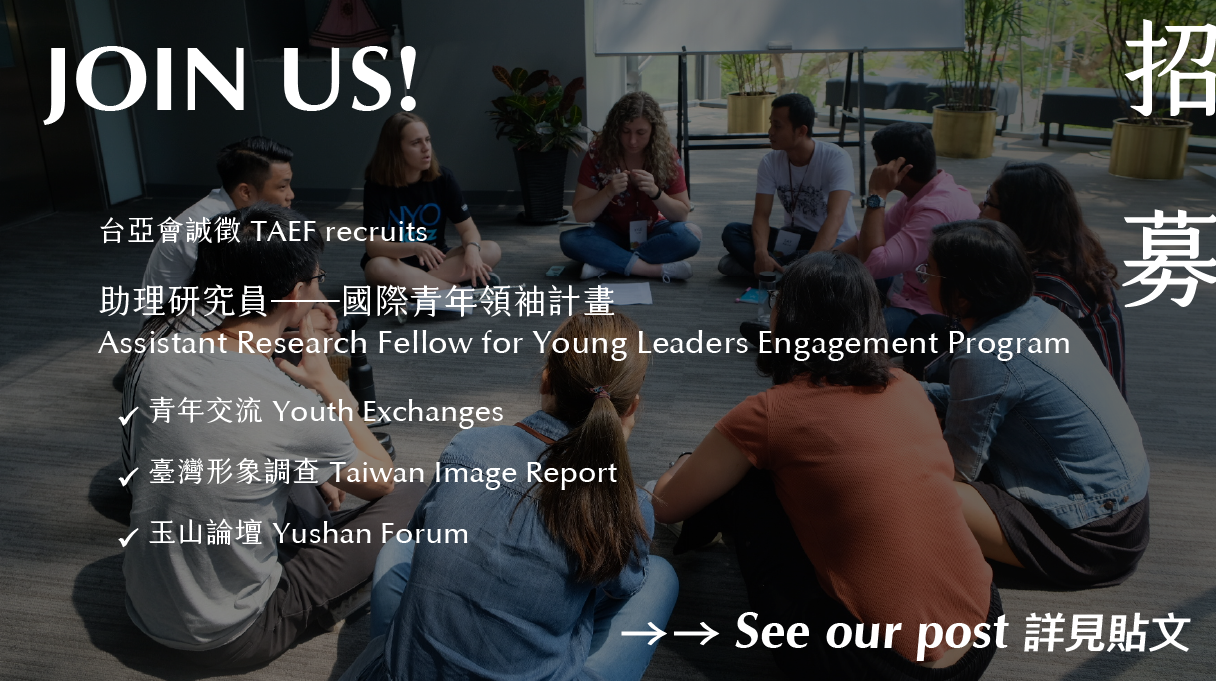 Enrich your career advancement at the beginning of a whole new year!
Are you interested in international exchanges? Do you want promoting international exchange to be part of your career?
We are looking for someone who is enthusiastic about and has his / her own unique thoughts on Asian affairs and youth development; capable of carrying out project planning and handling administrative affairs simultaneously and is willing to work both independently and collectively as a team member.
The position—Assistant Research Fellow—at the Taiwan-Asia Exchange Foundation (TAEF) offers you opportunities to plan and execute projects with international partners, and turn your vision into reality. If you have a strong sense of international affairs, are interested in project management, and are attentive to administrative details, you are welcome to join TAEF and take part in developing Taiwan's external relations.
Taiwan-Asia Exchange Foundation
Founded in 2018, the Taiwan-Asia Exchange Foundation (TAEF) is the first policy-oriented think tank in Taiwan focusing on Southeast Asian and South Asian affairs. In the spirit of the New Southbound Policy (NSP), the goal of the TAEF is to promote comprehensive ties between Taiwan and the 10 ASEAN countries, 6 South Asian states, as well as Australia and New Zealand through cooperation and exchanges in three major fields – including think tanks, non-governmental organizations (NGOs) and young leaders – to consolidate a sense of regional community in Asia and establish long-term cooperative partnerships. TAEF is devoted to building new mechanisms for regional cooperation among Asian societies. Our goal is to cultivate standard policy blueprints for Taiwan, ASEAN, and South Asian countries through frequent regional dialogue, while also highlighting Taiwan's commitment and contributions towards Asia's development through concrete initiatives for cooperation. In addition, the TAEF hosts various international conferences – including the Yushan Forum: Asian Dialogue for Innovation and Progress – with the aim of strengthening ties with New Southbound Policy partner states and societies, while also inviting other like-minded countries to participate in the regional dialogue.
Posting Title:
Assistant Research Fellow
Contract:
Full-time (40 hours per week)
Main responsibilities
Within delegated authority, the Assistant Research Fellow will be responsible for the following duties:
Communication and Publications:
1. Edit and disseminate daily and biweekly newsletters by gathering, selecting, and analyzing information on the Southeast and South Asia region contained in communications and publications received from different sources, including the press;
2. Plan and manage the publication of the report of the annual research project on the image of Taiwan and Taiwanese businesses by assisting and coordinating with the principal investigator, gathering and synthesizing on the research findings, and communicating with research teams;
3. Contribute and produce content for the TAEF Quarterly as a member of the editorial team.
Project Management:
1. Design and convene conferences and/or events under the Young Leader Program including but not limited to SEASAT Youth Camp and an international conference on the Future of Work;
2. Generate impact and enhance partnership by providing convening functions including drafting conference and/or course agenda, recruiting participants, conducting promotional campaigns, and carrying out other administrative functions related to conferences and/or events.
Event Management (the Yushan Forum):
1. Assist in conference preparation, including but not limited to contacting panelists, drafting speeches, translating conference files, editing conference handbook;
2. Assist in conference organization;3. Edit conference report, including but not limited to gathering graphic and text information, setting output format, communicating with relevant contractors, and accomplishing other administrative functions.

Others:
Perform other related duties as required.
Competencies:
1. Education: Advanced university degree (Master's degree or equivalent) in political science, international relations, international economics, law, public administration or other related subjects.
2. Work Experience: A minimum of one year of progressively responsible experience in the public sector, academia, non-governmental organizations or related areas that demonstrates a good understanding of the management or administration of government, foundations, or associations.
3. Professionalism: Ability to identify and analyze political, ethnic, racial, social and economic issues with regard to Taiwan's foreign policy, the New Southbound Policy, and regional development. Publication in relevant files is an advantage (including degree dissertation).
4. Editing and publishing: Ability to develop content and topics, write and edit commentaries, design publication covers and inner pages, and proofread publications. Professional and practical experience in editing and publishing is desirable.
5. Planning & Organizing: Experience in designing and convening events and conferences and ability to deliver administrative functions in a timely manner. Experience in organizing or convening international conferences, conducting international research projects, or managing multiple projects simultaneously is desirable.
6. Administrative functions: a good understanding of administrative process and practice including but not limited to writing official documents, selecting contractors, and filing reimbursement.
7. Languages: Fluency (oral and written) in Chinese and English is required.
- Chinese: Non-native speakers are required to present a language certificate that demonstrates a minimum proficiency of TBCL 6 (or equivalent).
- English: Non-native speakers are required to present a language certificate that demonstrates a minimum proficiency of overall band score of 6.5 in IELTS or 85 in TOEFL iBT (or equivalent).
- Ability to translate documents from Chinese to English or vice versa.
- Knowledge of Languages in other languages is an advantage (Southeast Asian languages preferred)
8. Characteristics: Be able to operate independently and work proactively and collaboratively with colleagues; work on multiple projects simultaneously; assess responsibilities and organize tasks in terms of priority; be willing to learn from others; share credit for team accomplishments and accept joint responsibility for team shortcomings.
9. Desirable: Familiarity with video editing (using Adobe Premiere Pro is an advantage) Familiarity with graphics editing (using Photoshop, Illustrator, Indesign, or Canva is an advantage) Familiarity with social media management

Salary: 30,000 - 50,000 / month
Benefit:
Labor and health insurance, pension scheme, annual bonus, and annual leave
How to apply
Please complete your application at https://forms.gle/A8K9PyEbwddXkkBh9
Deadline:
Applicants will be screened on a rolling basis. Early submission is suggested.
Screening process:
The application will be reviewed based on the application materials, an on-site written exam, and an interview (only a shortlist of candidates will be notified)
Office
Taiwan-Asia Exchange Foundation (Room 1107, 11F, NO.136, Section 3, Ren'ai Road, Da'an District, Taipei)

For inquiries: service@taef.org
More vacancies at TAEF: https://www.taef.org/event/989