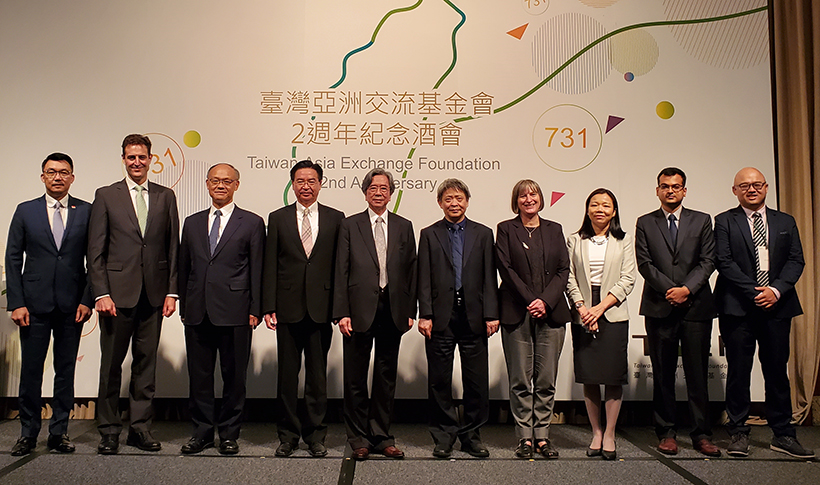 A reception for the second anniversary of the Taiwan-Asia Exchange Foundation (TAEF) was held on August 7th
at Shangri-La's Far Eastern Plaza Hotel in Taipei. The participants of this event included high-profile figures from governmental and private sectors as well as members of diplomatic corps in Taiwan.
"I believe that we can win genuine friendships in the Indo-Pacific region with strong connectivity and vigorous action in the face of the new normal. We hope that our efforts can support Taiwan to develop a new partnership that shares Taiwan's model in public health, food security, technology innovation, and talent cultivation with partners in this pressing moment. " said Dr. Michael H.H. Hsiao, Chairman of TAEF, during his welcoming remarks at the luncheon.
Dr. Jaushieh Joseph Wu, Minister of Foreign Affairs, also pointed out, during his address, that Taiwan will continue to help Asia in the fight against COVID-19.
Cooperation on public health, reinvigorating the economy, and preventing future epidemics will be on the agenda of this year's Yushan Forum, which will be held on October 8-9.
-------------------------------------------------
TAEF in the past two years
As the New Southbound Policy continues to make progress, Taiwan's connections with neighboring states and like-minded countries have strengthened in recent years. Founded in 2018, the TAEF is the first policy think tank focusing on South and Southeast Asian affairs. The establishment of TAEF marks the development of Taiwan's people-centered strategy and comprehensive engagement and partnership with Asia. Furthermore, with the support from Taiwan's vibrant civil society, the notion of people-to-people exchange has been expressed to its core.
In the past two years, the TAEF has missioned itself in raising Taiwan's contribution in various aspects internationally by building partnerships with domestic and international organizations and conducting research through five programs, namely on think tank collaboration, youth development, civil society connectivity, regional resilience, and art & culture exchanges. By organizing the annual Yushan Forum, TAEF has invited world leaders to Taiwan to discuss collaboration and developmental issues in Asia and Taiwan's role for the region.