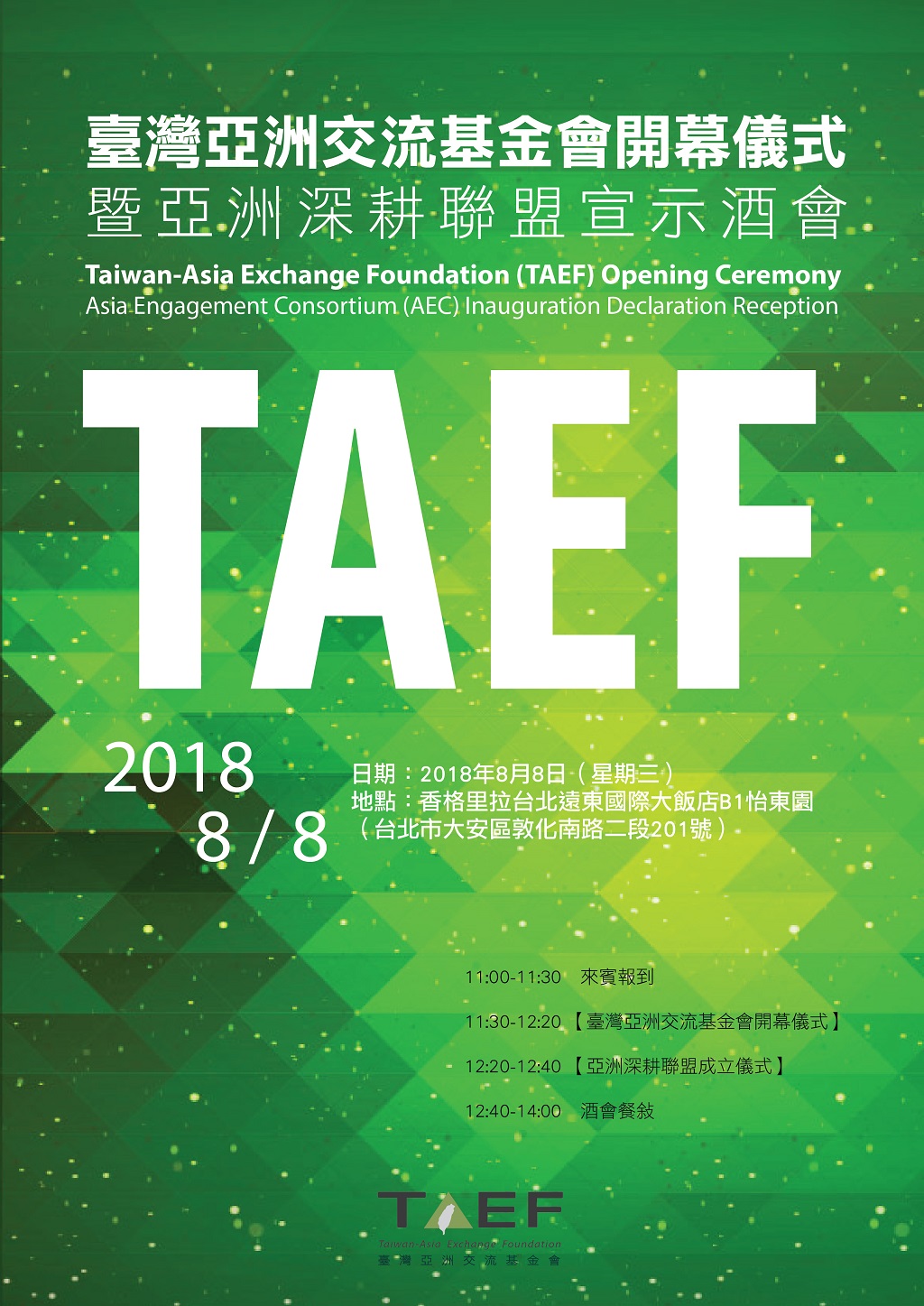 Taipei, Taiwan – Taiwan-Asia Exchange Foundation (TAEF) will host its opening ceremony and Asia Engagement Consortium (AEC)'s inauguration reception on August 8th, 2018 at Shangri-La's Far Eastern Plaza Hotel. Important guests from Taiwan and abroad have been invited to speak at the opening ceremony.
TAEF is dedicated to promote and deepen the non-governmental aspects of Taiwan's New Southbound Policy (NSP). As August 8th is also the date of ASEAN's 51th Anniversary, TAEF's opening ceremony on this particular day bears additional significance.
As the NSP progresses, Taiwan's connections with neighboring states and like-minded countries will only become stronger. The establishment of TAEF marks the continued strengthening of Taiwan's people-centered and comprehensive engagement and partnership with Asia, and the support from Taiwan's vibrant civil society organization makes it even more significant. The general theme of this year's Yushan Forum: Asian Dialogue for Innovation and Progress, to be hosted by TAEF, is entitled "Working Together for Regional Prosperity". The event will take place on October 11th and 12th.
Besides TAEF's opening ceremony, the inauguration of the AEC will also be announced on this occasion, which continues to solicit the participation of experts and representatives from domestic and foreign institutions focusing on Southeast Asia and South Asia affairs. The already confirmed participating domestic institutions include the Prospect Foundation, National Culture and Arts Foundation, Taiwan External Trade Development Council, Chung-Hua Institution for Economic Research's Taiwan ASEAN Studies Center and Taiwan AID. The inauguration ceremony of the AEC signifies the close and dynamic partnership network of Taiwan think tanks, NGOs, youth leaders and cultural organizations to assist and facilitate the social and cultural connectivity of Taiwan and NSP countries.