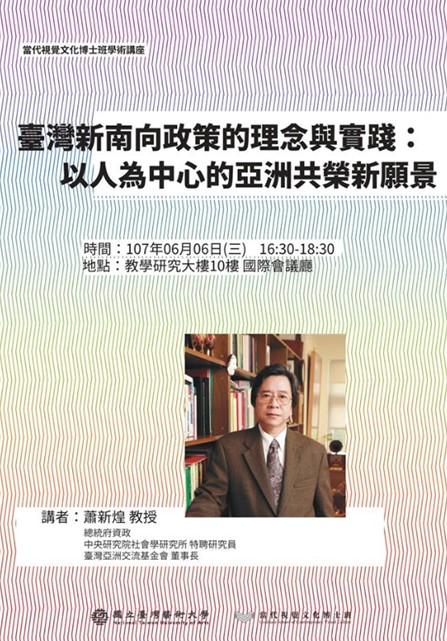 The National Taiwan University of the Arts (hereinafter referred to as NTUA) Graduate School of Contemporary Visual Culture invited Dr. Hsin-Huang Michael Hsiao, the Chairman of the Taiwan-Asia Exchange Foundation (TAEF) to give a keynote speech entitled "Concepts and Practices of Taiwan's New Southbound Policy: A People-Centered Vision for Asian Common Prosperity" on June 6th, 2018. Dr. Chih-Cheng, Chen, President of NTUA, Ms. Susana Tsai, the Chief Secretary, Mr. Ting-Fu Chiang, Director of the Cultural and Creative Industry Park, Dr. Xiao-Yen Huang, Chair of the Department of Fine Arts, Dr. Yung-Wen Tsai, Chair of the Department of Music, and Mr. Jing-Chung Luo, Curator of the Yo-Chang Art Museum and many students attended the keynote speech.
Dr. Chin-Cheng Chen expressed his concern over the New Southbound Policy in his opening speech. While he believes the New Southbound Policy has seemingly been more about economic, trade and tourism, he believes NTUA alumni networks in Southeast Asian countries could also play an active role in helping TAEF establish long term cultural and artistic collaborations.
In response, Dr. Hsiao emphasized the "people-centered" core value of Taiwan's New Southbound Policy, and how the New Southbound Policy is a response to the changing dynamics and economic developments in the Asia-Pacific region under the axis of ASEAN community. Through the promotion and implementation of partnerships with Southeast Asian countries, Taiwan will be able to build up its own regional strategy for Asia. Actual execution includes cross-ministerial mechanisms in laying out policy frameworks, policy consulting and coordination mechanisms, which Dr. Hsiao hopes will enable the transformation from economic investments to social connectivity. Besides trade, agriculture and public health, Dr. Hsiao mentions that cultural and educational programs will also be initiated and implemented, which will directly address to Dr. Chen's concerns.
Dr. Hsiao pointed out that a civil society-initiated and government-supported Taiwan-Asia Exchange Foundation will be able to promote the New Southbound Policy with relatively more freedom and flexibility. TAEF will utilize the annual Yushan Forum, other flagship programs and also inter-departmental coordination to integrate domestic and international networks encompassing youth leaders, think-tanks and non-governmental organizations. TAEF will also develop innovative dialogues and cooperation mechanisms with Asian partners, which will accumulate energies and networks for building multilateral cooperation networks. To deepen the regional community and build up linkages among pan-Asian countries, Taiwan is aiming to transform its "Taiwan and SEA + SA" relational setup into "Taiwan in SEA + SA".