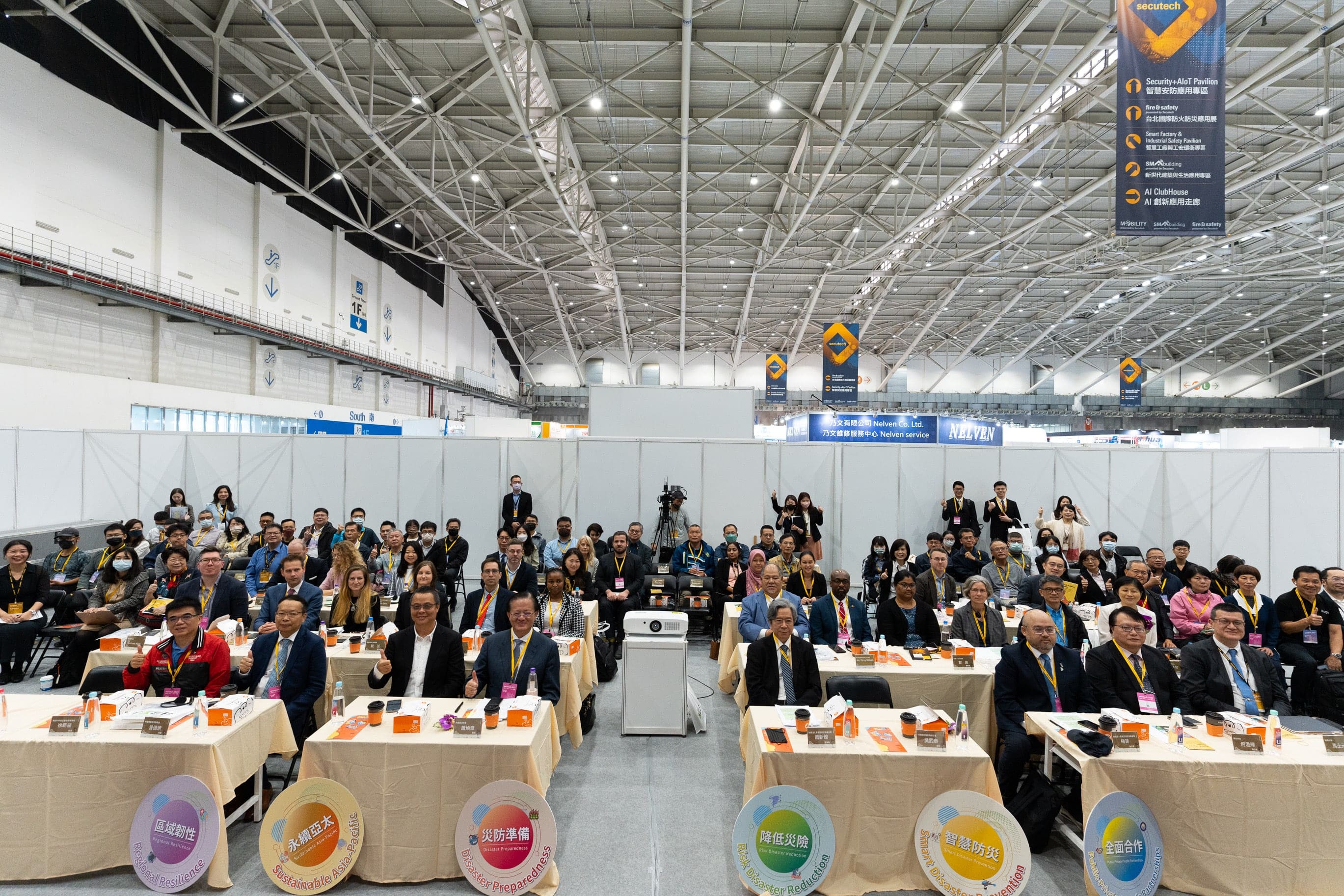 The "Asia Disaster Prevention Forum" was jointly organized by the Taiwan-Asia Exchange Foundation (TAEF) and the Taiwan Association of Disaster Prevention Industry (TADPI) and supported by Frankfurt Exhibition Limited and Watchout Co. It took place on April 26 at the Taipei Nangang Exhibition Center, Hall 1. The theme of the forum this year was "Building Disaster Resilience through Civil Preparedness under Uncertainty". The focus this year was how the public can face and react to possible large-scale disasters in an uncertain era.
The event was attended by the Deputy Governor of Bangkok, Thailand, and an honorary professor from the University of Tokyo, Japan who shared how Japanese society tackles crises under disaster conditions using smart applications. In addition, from the domestic side, several industrial, governmental, and academic experts also expressed their take on disaster prevention, especially what is being practiced in the field. This forum continued the previous discussion started in 2020 on how to rebuild regional resilience during the climate crisis.
In his opening remarks, TAEF Chairman Dr. Hsin-Huang Michael Hsiao emphasized that "technology, good governance, and a vibrant social network" are the three essential components for building disaster resilience. The government's determination to protect the welfare of its people is reflected in its top-down approach to good governance. When that is combined with grassroots disaster preparedness efforts by civil society in a bottom-up fashion, these two forces, along with Taiwan's superior technology, form a solid foundation for building "a resilient island, a resilient nation."
The Chairman of the TADPI, Dr. Chi-Ming Peng, mentioned in his opening speech that in addition to traditional fields such as civil engineering, water resources, and firefighting, the association also has expanded to include members from new areas such as meteorology, internet of vehicles, and virtual reality, etc. This expansion is due to the fact that the new era of disaster prevention requires the integration of diverse fields and innovative methods to reduce the losses caused by disasters.
Wu-Tai Wu, Director of the Office of Disaster Management, Executive Yuan pointed out that in the face of the increasing frequency and severity of global disasters, the key focus of disaster prevention & management should be on enhancing resilience through practical measures. This year, the Executive Yuan has formulated a basic disaster prevention & management plan, which proposes measures for dealing with changes in the impact of disasters under "climate change", while integrating "digital transformation" to effectively enhance the efficiency of disaster management using technology tools. Finally, through "resilient reconstruction", the energy in civilian society can be enhanced and the capacity for large-scale disaster recovery can be strengthened.
Huan-Chang Hsiao, Director-General of the National Fire Agency, stated that technology plays a crucial role in disaster preparedness. The forum today highlighted how technology facilitates disaster prevention. He also mentioned the National Fire Agency's efforts to strengthen connections with our neighbors such as the New Southbound countries. For instance, Taiwan Fire Academy in Zhushan has traditionally collaborated with the Philippine firefighting department in training. When disasters occur, regional cooperation becomes even more important.
Twekiat Janprajak, the Executive Director of Thailand Trade and Economic Office, expressed that Thailand has also experienced many disasters in recent years, such as the 2004 tsunami and the recent COVID-19 pandemic. In response to these natural disasters, Thailand has developed the "Bangkok Principles" to strengthen risk control in various aspects when disasters occur. This principle is a cross-disciplinary and integrated management approach, and it can serve as a reference for other countries in disaster prevention and control.
In the first session, Honorary Professor Naoshi Hirata from the University of Tokyo introduced how Japan promotes disaster prevention education. He also claimed the most important aspect of the Sendai Framework for Disaster Risk Reduction (SFDRR), is educating the public to understand the risks of disasters. Then the priority moves to risk governance, enhancement of disaster preparedness, and continuous investment in disaster reduction measures.
In the second session, Tavida Kamolvej, Deputy Governor of Bangkok, shared Thailand's experience with collaborative disaster management in the Bangkok metropolitan area, for example, "the Bangkok Risk Map." The Risk Map integrates the unilateral resources of various public sectors in disaster prevention by aggregating and visualizing data in map form. The Map is presented in digital format. For example, by overlaying information such as the distribution of fire hydrants, the frequency of fires, and population density on the risk map, it is possible to digitally analyze which areas require more fire hydrants.
After these experts discussed international and Taiwan's disaster prevention from diverse perspectives, Kuo Chun Hung, CEO of Watchout Co., Alan H. Yang, TAEF's Executive Director, and Shaowei Huang, the Secretary-General of the TADPI, led a group of Taiwanese disaster prevention experts to launch an English version of the "Civil Defense Guide," which is designed to enhance public awareness of disaster prevention.
Facing the rapidly changing international situation, the climate crisis, and potential disaster risks, we must take adaptive action to reduce vulnerability and enhance resilience. Our society must face this issue together, and Taiwan has an indispensable role in this.