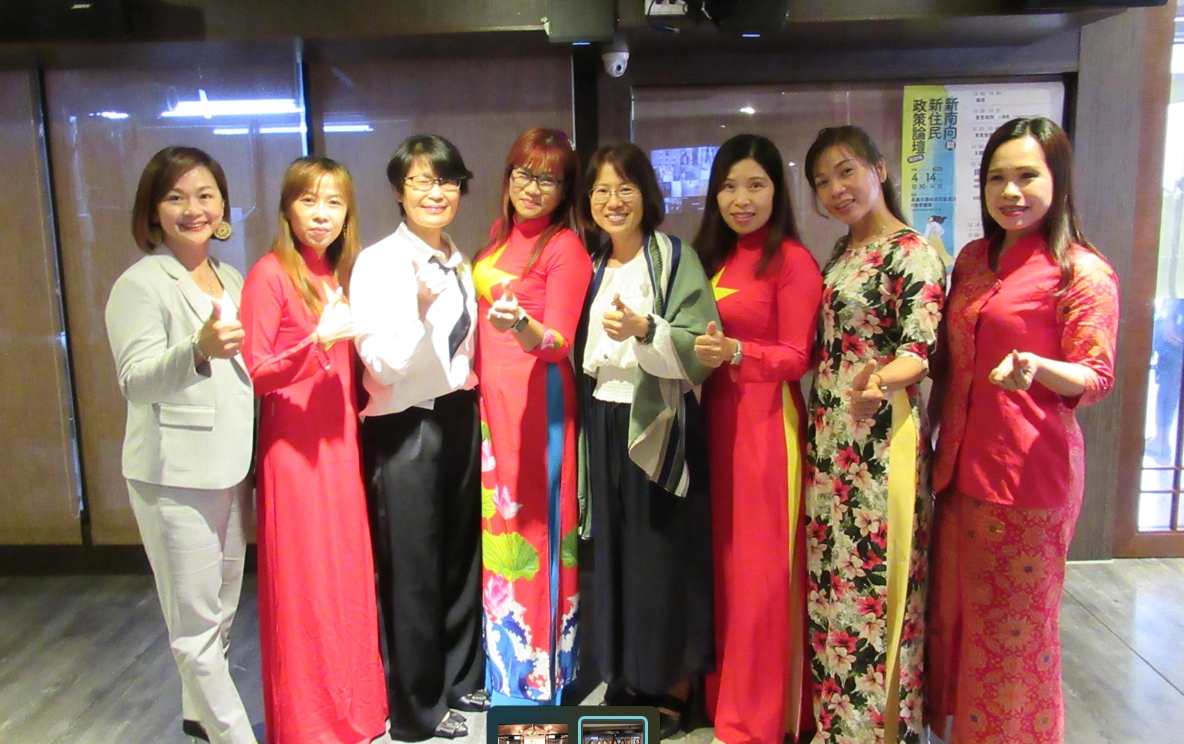 Organized by the Taiwan-Asia Exchange Foundation (TAEF), in collaboration with the National Immigration Agency Chiayi Service Center of the Southern Affairs Division, the Ministry of Foreign Affairs Southern Taiwan Office, the Executive Yuan Yunlin-Chiayi-Tainan Joint Services Center, and the New Immigrant Family Service Center of Chiayi City Government, the New Southbound and New Immigrants Policy Forum in Southern Taiwan was held on April 14th, 2023 at the Lan Kwai Fong Garden Hotel in Chiayi. The forum brought together government agencies, non-profit organizations, experts and scholars, and new immigrant representatives in the Yunlin-Chiayi-Tainan region, who are all dedicated to sharing the cultures and promoting the education of second-generation immigrants, to explore the current situation and potential of new immigrants and second-generation immigrants in Taiwan from the perspective of the New Southbound Policy.
During his opening remarks, Dr. Alan Hao Yang, Executive Director of TAEF, highlighted the human-centered nature of the New Southbound Policy. The New Southbound Policy aims not only to empower new immigrants and second-generation immigrants, but also to expand the influence of this policy to the entire Taiwanese society through the efforts of governmental and non-governmental organizations, in order to cultivate Taiwan's human capital and allow everyone to become a part of Taiwan, and hence the consolidation of cultural and regional linkages. He hopes that this forum achieves two goals: first, to gather good people to do good deeds, and second, to make known these good stories.
Deputy Executive Director Li Bi-Jing of the Executive Yuan Yunlin-Chiayi-Tainan Joint Services Center stated in her opening speech that currently, 5 out of every 100 people in Taiwan are either new immigrants or second-generation immigrants, and the government has a dedicated fund of NT$ 1 billion for new immigrants, which is used for counseling and related programs. The central local governments have both made great efforts in helping new immigrants and will continue working together to build a more friendly society.
During the keynote speech, Huang Ling-Yu, Section Chief of the National Immigration Agency, outlined the prospects for Taiwan's policies towards new immigrants and second-generation immigrants, emphasizing that NGOs are excellent partners in promoting government policies and play a supervisory role. There are currently more than 200 NGOs engaged in new immigrant counseling work in Taiwan. The government has measures such as the Capacity Building Plan and the Dream Building Plan to encourage the training and education of new immigrants and second-generation immigrants. Undoubtedly, Taiwanese society is becoming increasingly diverse, and this trend can enhance Taiwan's international competitiveness.
During the "Education Enhancement Sharing" session of the forum, Hsiao Sheng-Chung, Director of the Ministry of Foreign Affairs Southern Taiwan Office, shared about the Ministry's recent recruitment and cultivation of new second-generation talents interested in foreign affairs. He pointed out that new immigrants and second-generation immigrants are a significant and not-to-be-underestimated new force in society. As culture is an important foundation of diplomatic work, the dual-cultural advantage possessed by second-generation immigrants makes them particularly suitable for the field of foreign affairs.
At the same session, Professor Chung Chen-Cheng from the Graduate Institute of Teaching Chinese as a Second Language at National Kaohsiung Normal University also stressed the significance of providing adequate educational resources for second-generation immigrants. In addition to sharing the status quo in the assistance of cross-national transition in the educational scene, he expressed his hopes that Taiwan's educational system to be equipped with the capacity to facilitate their adaptation and to meet the educational needs of diverse language groups, ensuring equal opportunities for all.
In the "Multicultural Sharing" session, Ms. Guo Shu-Min, an Indonesian new immigrant who had participated in the program, was invited to share her perspectives on cultural integration. Ms. Hsu Shu-Fen, Supervisor of the New Immigrant Family Service Center of Chiayi City Government, also shared her experiences in creating programs to empower new immigrant communities, including a multicultural teaching team and activities such as documentary screenings, aiming to bring the life stories of new immigrants to the forefront and promote multiculturalism in society.
From the perspective of anti-discrimination education, Mr. Wang-Shi, Chairman of the Taiwan Pangphuann Education Association, discussed the importance of promoting multiculturalism in schools and fostering a culture of inclusion. He highlighted the potential of educational programs that address issues that are not typically covered in mainstream curricula, as means of empowering students, teachers, and parents to take action toward creating a better society through connecting with new immigrant and second-generation communities.
The forum concluded with remarks by Dr. Yang from TAEF, who commended the efforts of various individuals and groups in promoting multiculturalism in Taiwan. Awards were presented to exemplary individuals, including Ms. Juan Jing-Hui, a new immigrant; Ms. Zhang Bao-Yun, a student at National Chiayi Senior Commercial Vocational High School; Ms. Zhang Li-Mei, CEO of the Chiayi City Employment Service; and Ms. Fan Hong-Yan, a trainer of multicultural education for the National Immigration Agency. Through this recognition, the forum aimed to encourage the continued development of policies and programs that support the diversity of Taiwan's immigrant communities.