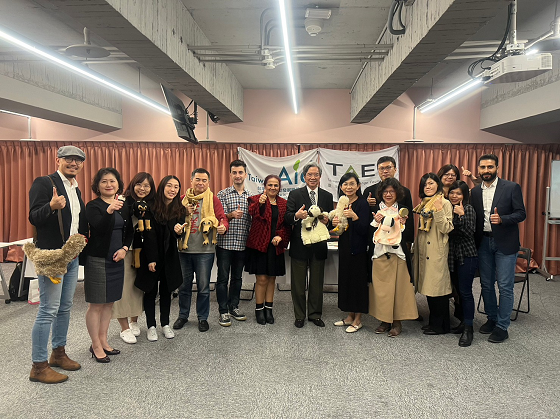 On December 8, TAEF co-hosted a forum with Taiwan AID for a dialogue between the Turkey Taiwan Center and NGOs in Taiwan. Chairman Michael Hsin-Huang Hsiao, the forum's moderator, invited the Turkey Taiwan Center's Executive Director, Dr. Chen-yu Chiu, to talk about the long journey he has undertaken to establish the Turkey Taiwan Center for refugees at Reyhanli, Turkey, and his future plans for the Center. Representatives of influential NGOs in Taiwan were also invited to the forum to share their wealth of experience over years in delivering humanitarian aid in South and Southeast Asia and running the NGOs. They were Chair Rebecca King-Ying Wang from Taiwan AID, Director Jay Hung from Zhi-Shan Foundation Taiwan, Director Hsiao-Ling Kao from Changhua Christian Hospital, and Ms. Wen-yu Tseng, the project manager from Eden Social Welfare Foundation.
Director Hung stated that it must have been a great hardship for Dr. Chiu to establish the Turkey Taiwan Center. To sustain it would also have been challenging. Director Hung advised Dr. Chiu to have short-, mid-, and long-term plans for the Center's sustainable development.

Director Kao pointed out that if the Center were to become self-sufficient, food production and water resources planning would be the key. If the center could sell self-produced products, it would be of benefit to the Center.

Chair Wang encouraged Dr. Chiu to run the Center strategically and sustainably so that it would one day become a model for other refugee centers in the world.

Ms. Tseng found that there were some similarities between Eden Social Welfare Foundation and the Turkey Taiwan Center in aiding war refugees on the Thai-Burmese Border and on the border of Turkey and Syria, for example. Ms. Tseng also suggested Dr. Chiu provide opportunities to local women for job training so that they could earn their own living.

To conclude, Chairman Hsiao hoped that the Turkey Taiwan Center could transform from "a refugee center" to "a community center" and that it would do more than "a recreation center" for the refugees but also become "an empowerment center" in the future.