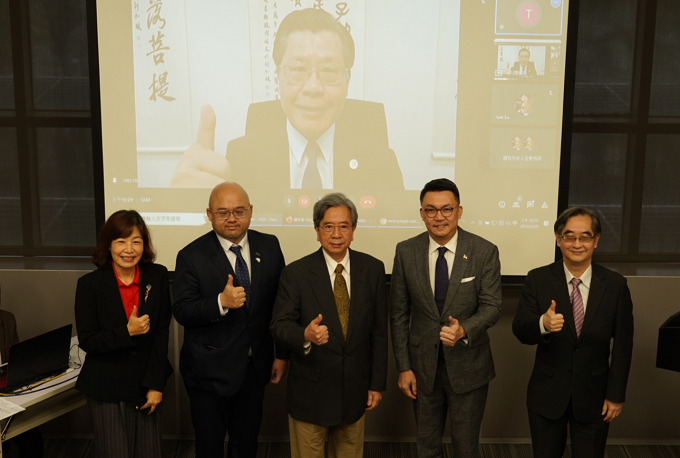 Taiwan's Country Image Ranks 3rd; Singapore Calls for More Collaboration in Tourism, Semiconductors, and Smart Electronics
Taiwan-Asia Exchange Foundation (TAEF) unveiled today the findings of the Survey on the Image of Taiwan and Taiwanese Businesses in Singapore. According to this survey of 100 Singaporean entrepreneurs, Taiwan and Taiwanese businesses are perceived positively overall. In addition, Singaporean entrepreneurs encourage more synergy between Taiwan and Singapore in tourism, semiconductors, and smart electronics.
However, they also felt that Taiwanese firms could invest more in internationalizing their businesses, improving the treatment of their employees, and implementing corporate social responsibility guidelines. In the meantime, Singaporean entrepreneurs called for closer cooperation between Taiwan and Singapore in light of global supply chain restructuring and geopolitical dynamics. In particular, they suggested Taiwan can leverage its advantages in "research and development (R&D)" and "high-end manufacturing" in the joint effort to promote high-end talent exchange, develop and strengthen supply chain resilience, and maintain regional safety and stability.
The media conference was opened by Chairman Hsin-Huang Michael Hsiao of TAEF, Representative Francis Kuo-Hsin Liang of the Taipei Representative Office in Singapore (via videoconference), and Trade Representative Yip Wei Kiat of the Singapore Trade Office in Taipei.
In his remarks, Chairman Hsiao expressed that he was glad to discover that Taiwan's image ranked third among Singaporean entrepreneurs behind only Switzerland and Japan. Taiwanese businesses, meanwhile, were especially noted for their "trustworthy" image. With the survey findings providing useful insights into areas of mutual interest and potential collaboration, Chairman Hsiao said that TAEF will continue to execute this survey project and hopes to receive support from both the public and private sectors in this effort.
Joining the media conference online, Representative Francis Kuo-Hsin Liang highlighted the milestone of Taiwan and Singapore signing the Agreement between Singapore and the Separate Customs Territory of Taiwan, Penghu, Kinmen and Matsu on Economic Partnership (also known as "ASTEP") in 2013. Serving as Taiwan's first FTA with an ASEAN country, this achievement has borne fruitful outcomes for both countries. For instance, Taiwan registered US$37.9 billion of exports to Singapore even amidst the peak of the COVID-19 outbreak in 2021. Investment-wise, Singapore remained the top recipient of Taiwan's foreign direct investment (FDI).
Trade Representative Yip Wei Kiat began his remarks by showing appreciation for TAEF conducting this in-depth survey. As Representative Yip noted, the findings showed that Singapore and Taiwan have maintained a strong and substantial economic partnership despite the impact of major events such as COVID-19 and the Ukraine-Russia war. Moreover, he was delighted to see that Taiwanese and Singaporean businesses are actively exploring new opportunities for collaboration in the food, electronic vehicles, and finance industries. In particular, Representative Yip pointed out that DBS Bank is scheduled to complete the acquisition of Citibank's retail banking business in Taiwan next year. With this, Representative Yip hopes that DBS Bank will "become a good partner for Taiwanese businesses seeking to grow their presence in Asia."
Dr. Alan H. Yang, Executive Director of TAEF, introduced the background of the Survey on the Image of Taiwan and Taiwanese Businesses. Initiated in 2019, this project is the first of its kind in comprehensively surveying the image of Taiwan and Taiwanese businesses in countries abroad, surveying one New Southbound Policy (NSP) partner country per year. This year's survey in Singapore is the fourth survey undertaken by TAEF following the completion of the surveys of Vietnam (2019), Indonesia (2020), and Thailand (2021). As Dr. Yang noted, the data collected can be expanded into cross-country comparisons, eventually resulting in a holistic picture of Taiwan and Taiwanese businesses in the NSP partner countries. On this note, Dr. Yang said that this TAEF project strives to survey all NSP partner countries in the future.
Kristy Tsun-Tzu Hsu, TAEF's Adjunct Senior Researcher and the director of the Taiwan-ASEAN Studies Center Chung-Hua Institution of Economic Research, served as the project's principal investigator. In her presentation of the findings, she highlighted that more than 80% of the survey participants viewed Taiwan as having a "positive overall" and "friendly" image. They also perceived Taiwanese businesses to be "trustworthy" (81%), "innovative" (76%), and "in compliance with regulations" (74%). Notably, Taiwan's country image ranked third among the 15 countries with the greatest FDI in Singapore, ranking behind only Switzerland and Japan. Moreover, the country image ranking of Taiwan was even higher than Singapore's first and tenth-ranking FDI country investors, which are the US and China respectively, despite Taiwan ranking only 15th for total FDI in Singapore. It is inferred that the generally positive image of Taiwan stems from its soft power established via cultural and people-to-people interactions.
Nevertheless, the results also showed that Taiwan needs to invest more effort in improving treatment of its employees and becoming more internationalized, as Dr. Hsu noted. The survey participants suggested Taiwanese firms move away from hierarchical organizational structures, broaden their international horizons, and improve English proficiency.
According to the survey, more than 70% of the participants thought that Taiwan, with its strength in technological R&D, could play a significant role in precision machinery, artificial intelligence, and peripheral industries. Within Singapore's post-COVID agenda, small and medium-sized enterprises are eager to move towards automation and digitization in correspondence to Singapore's RIE (Research, Innovation, and Enterprise) 2025 Plan. At the same time, they recognize Taiwanese businesses' contribution to Singapore in "bringing in innovative technologies" and "creating job opportunities." Given such complementary conditions, Dr. Hsu suggested that Taiwan should do more to promote Taiwan's engagement with other countries in the sectors of economy, healthcare, education, and agriculture by taking full advantage of the five flagship programs of the NSP.
To cope with the challenges posed by global geopolitical risks such as the COVID-19 pandemic, deteriorating US-China relations, and the Russia-Ukraine war and the corresponding changes in global trade, the survey participants believed that Taiwan and Singapore should focus on conducting exchange and training of advanced technical personnel (70%), building and reinforcing supply chain resilience (69%), maintaining regional stability and security (65%), and relaxing border restrictions (65%). Finally, as Singapore sets out to achieve net-zero emissions in the next ten years, Dr. Hsu suggested Taiwanese businesses gear up their efforts to engage in corporate sustainability and promote Taiwan as a role model in implementing ESG and environmental protection policies.