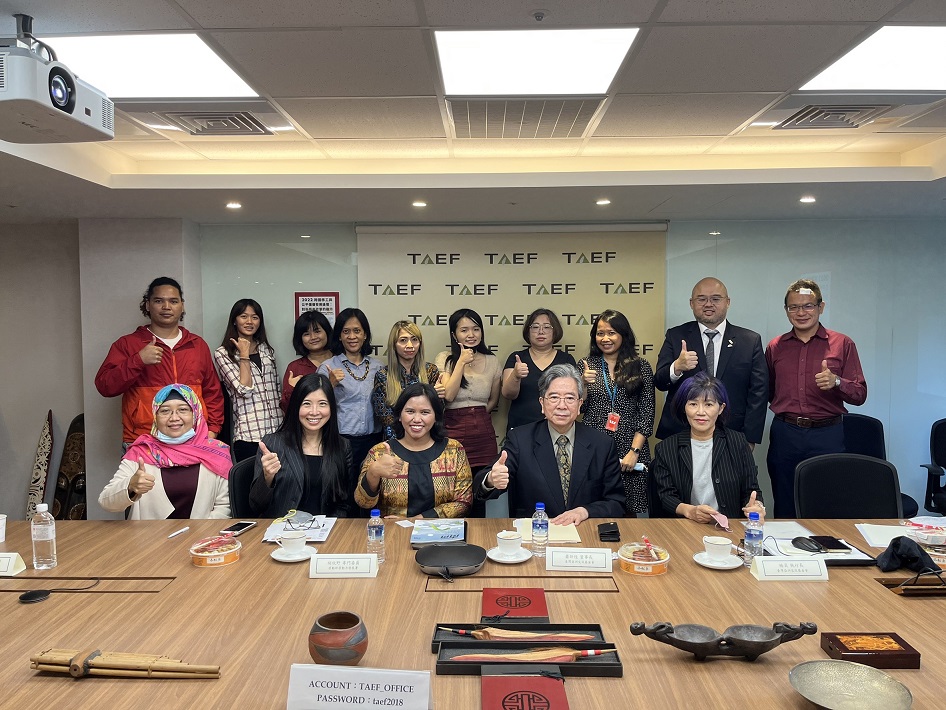 This Monday (Nov. 7), Taiwan-Asia Exchange Foundation (TAEF) organized the 2022 Forum on Enabling the International Migrant Workers: Implications for Taiwan's New Southbound Policy at our office. Representatives from the government, non-profit organizations, and non-profit recruitment agencies were brought together to exchange perspectives on advancing the protection of migrant workers' rights and interests.
The forum was opened by Dr. Michael Hsin-Huang Hsiao, Chairman of TAEF, followed by brief welcome remarks from Dr. Isabelle Cheng, Senior Lecturer in East Asian and International Development Studies at the University of Portsmouth. The forum then invited Iweng Karsiwen, Chair of Keluarga Besar Buruh Migran Indonesia - KABAR BUMI (Families of Indonesian Migrant Workers, Indonesia) to give a speech on the current situation facing cross-border Indonesian migrant workers and respective policy recommendations.
Chairman Hsiao remarked that the main purpose of this forum was to gather insights and suggestions from migrant workers-focused civil organizations as well as the government to facilitate constructive communication. As both the public and private sectors have the same goal—to provide better protection and fair recruitment to migrant workers, Chairman Hsiao stressed that the public and private sectors do not necessarily have to stand in opposition; they can instead synergize with each other via partnerships.
Professor Isabelle thanked TAEF for helping to arrange Iweng's first visit to Taiwan. She pointed out that her initial proposal to Iweng was to visit and conduct studies in the UK, but Iweng suggested changing the plan and visiting Taiwan because she thought "I can do much more in Taiwan," as this would be her first time gaining first-hand observation of the unique migrant workers community here.
In her speech, Iweng introduced the work of her organization, Kabar Bumi, which mainly focuses on promoting the awareness of labor rights among migrant workers and also their families. In fact, they particularly include the family members as their servicing targets because they are the core safety and information network of the migrant workers. Based on her experience as a migrant worker and also in helping the migrant workers on the frontline, she outlined a few policy recommendations: ensure the provision of rest days for migrant workers, prevent illegal confiscation of their identification documents, and abolish the practice of asking workers to pay the broker or other fees. On top of it, she called for Taiwan to implement migrant workers protection as stipulated in international conventions to show its commitment as a member of the international community.
Lennon Wong, Director of Serve the People Association pointed out that in addition to the fees collected by different parties at different stages, confiscation of documents, and insufficient legal protection, migrant workers also have to face discrimination, especially the case where women were discriminated as less productive because of their parental roles, or where migrant workers were underpaid or not paid at all their night shift allowance. He urged for public-private cooperation to improve these pervasive problems.
Karen Hsu, Chairwoman of the Global Workers' Organization credited the government's effort in establishing the 1955 Counseling and Protection Hotline for Foreign Workers. However, in terms of implementing the regulations that have been promulgated, there were still gaps to be filled. She suggested that Taiwan and Indonesia should sit down for a discussion to avoid misunderstanding that would lead to double charging the migrant workers for the same fees, for example.
In response, Hsin Yeh Hu, Special Committee of the Workforce Development Agency of the Ministry of Labor said that the Taiwanese government has been holding meetings regularly with not only civil organizations to collect feedback on tackling migrant workers protection-related issues, but also with the Indonesian government to explore feasible solutions. Also, she shared that the Taiwanese government is planning to offer all incoming migrant workers a 3-day workshop on labor rights starting next year.
The forum was concluded by Dr. Alan H. Yang, the Executive Director of TAEF with a vote of thanks. He said that this forum could serve as a point of departure for the governments and civil organizations in both countries to pool their information, organize them systematically, and produce a clear layout of the practices that need further regulations and those that should be abolished.