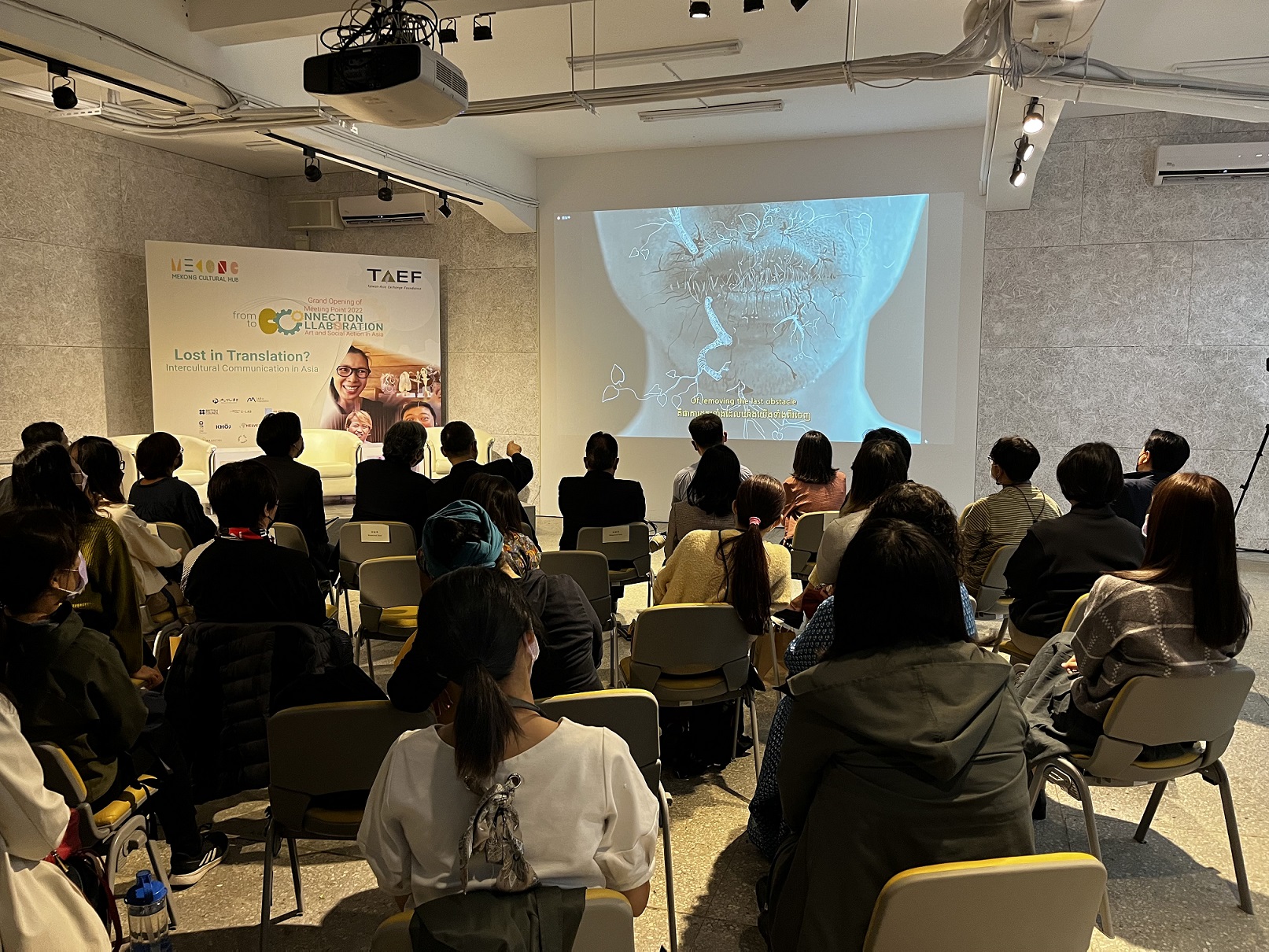 Jointly organized by the Taiwan-Asia Exchange Foundation (TAEF) and Living Arts International Taiwan Office (or Mekong Cultural Hub), the second edition of Meeting Point 2022 this afternoon, with the physical event taking place at Taiwan Contemporary Culture Lab (C-Lab) and streaming online simultaneously.
The theme for this year's Meeting Point is "From Connection to Collaboration", where artists from Taiwan, Cambodia, Laos, and Indonesia gathered to exchange their experiences and working methods in conducting cross-cultural collaboration. With online and on-site participants joining the conversation, this event strives to address the following question: As we begin to reconnect with people after the COVID-19 pandemic, can we re-imagine ways of working together? Is there a way to make collaboration spaces more inclusive, dynamic, and mutually beneficial through communication?
Chairman Hsin-Huang Michael Hsiao of TAEF, Deputy Minister Tsung-Huang Hsiao of Culture, and Chair of Board Director of Living Arts International (LAI), Richard C. Helfer commenced the forum with their remarks. Noteworthy was that Richard C. Helfer and Frances Rudgard, Managing Director of Mekong Cultural Hub (MCH) flew to Taiwan specifically to attend this event.
Chairman Hsiao of TAEF remarked that MCH has been its indispensable partner in promoting cultural exchanges between Taiwan and the New Southbound Policy (NSP) partner countries. He highlighted that the Meeting Point program co-hosted by TAEF and MCH last year focusing on cross-cultural collaboration in times of pandemic was a fruitful success, attracting more than 100 participants from over 10 countries. Today, both took the momentum forward to organize today's event to extend this important discussion: how to go beyond achieving mutual understanding via translation/interpretation and start real communication.
Deputy Minister Hsiao recognized how significant the role of MCH in promoting regional cultural collaboration. He emphasized that MCH is one of the few Asian-based organizations that has demonstrated successful actions in connecting the region with the international community via cultural and social actions. The Ministry of Culture will continue to support MCH and TAEF's efforts.
LAI's Chair of Board Director Richard C. Helfer highlighted that over the past 5 years, MCH has facilitated more than 30 small cultural organizations and held over 150 events to support artists in the region to incubate their cultural works, where most were translated into impactful social actions. He said that the Meeting Point program is especially valuable as it offers a base where people from different culture but with shared values can come together and become catalysts of change.
This Meeting Point 2022 program kicked off with a screening of My Mother's Tongue, a film by Jean-Baptiste Phou, which tells the story of a mother and son who don't speak the same language until something unlocks when she suddenly falls very ill. After the screening, Jean-Baptiste introduced his new participatory installation, Echoes from the Stars, inviting the audience to take part and complete the work together by recording their words for someone special and "echoing" them to the stars. This project will be opened for participation throughout the rest of the program, with a special event on 28th October where audiences can join the creators of the artwork to explore the installation.
The event was followed by a lively panel discussion on the topic of "Lost in Translation? Intercultural Communication in Asia" moderated by Lawrence Zi-Qiao Yang. Four panelists were invited to share experiences and critical reflections on cross-cultural collaboration, namely Chang En-Man, Wen-Hao Huang, Dorn Bouttasing, and Dian Ika. The floor was also opened to encourage questions, insights, and critique from the audience, in conversation with each other and with the panelists.
While working in different ways and with different focuses on Southeast Asia, both MCH and TAEF share an aim to explore and expand the diversifying relationships and cultural exchange between Taiwan and Southeast Asia.