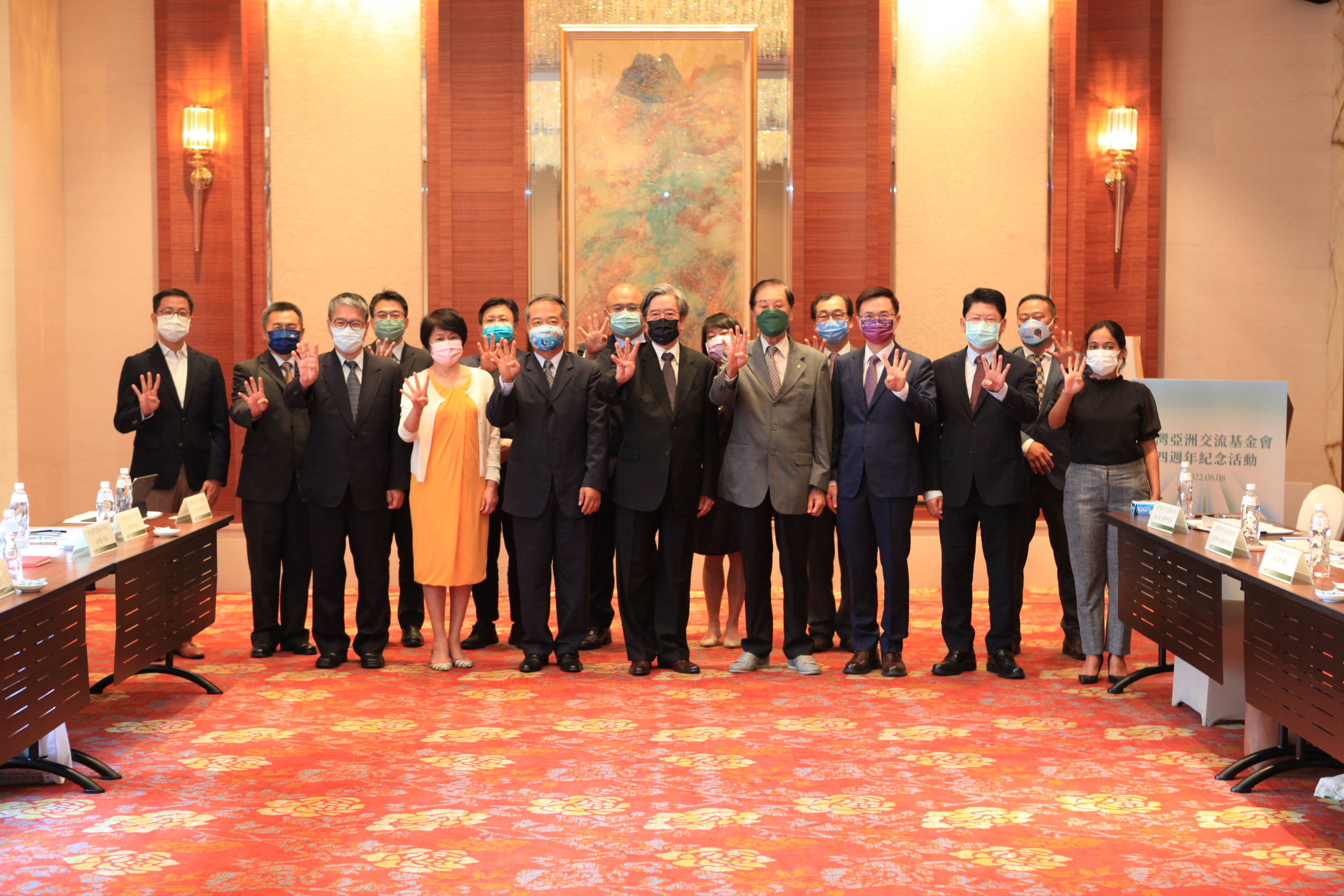 Chairman Hsiao: Respond to Hostility with Kindness, Collaborate for A Sustainable Region
A reception for the fourth anniversary of the Taiwan-Asia Exchange Foundation (TAEF) was held on August 8th at The Okura Prestige Taipei. More than 20 key institutions from both the public and private sectors attended the celebration, including high-level officials from the Ministry of Foreign Affairs (MOFA), Office of Trade Negotiations (OTN), and members of TAEF's core collaboration network, Asia Engagement Consortium (AEC).

In his remarks, Chairman Michael Hsiao Hsin-Huang of TAEF summarized TAEF's work highlights over the past four years under three "I"s – International, Intersectoral, and Intellectual. These achievements included the signing of an MOU with India's largest think tank, Observer Research Foundation (ORF); the production of videos showcasing the New Southbound Policy (NSP) track records of 11 government agencies for two consecutive years; and two policy reports in the pipeline: the Taiwan-Australia Relations Report and the New Southbound Policy Report, where the latter consolidates the outcomes of all sectors in promoting the NSP under robust public-private-people partnerships (PPPP).

Minister without Portfolio DENG Chen-chung of the Executive Yuan remarked that TAEF is a fundamental force in driving the NSP forward, which is evident in the growing international recognition of its flagship Yushan Forum held annually in October. Deputy Minister Tien Chung-kwang of the MOFA also emphasized how the Yushan Forum continues to attract high-level guests from home and abroad every year. For instance, the Forum hosted former Canadian Prime Minister Stephen Harper and former Vice President Jusuf Kalla in 2019; and former Australian Prime Minister Tony Abbott in 2021. Mr. Abbott's speech at the Forum, which showed unwavering support for Taiwan, still remains fresh in our memory.

As a member of the AEC, Chairman James Huang of the Taiwan External Trade Development Council (TAITRA) pointed out that while Taiwan is world-renowned for its triumphing tech sector, the NSP countries have each demonstrated their strengths in the field as well. Therefore, Taiwan should seize the opportunity to promote the "Digital New Southbound Policy" to step up our relations with the NSP countries. Apart from trade and economy, Chairperson HUNG Chih-Chieh of Taiwan Alliance in International Development (Taiwan Aid) also expressed his views on the NSP from the point of view of civic collaboration. He said that the civic space is currently confronted by strenuous challenges due to Taiwan Strait issues, preventing international cooperation on development assistance due to political zero-sum games between pro-China and anti-China civic organizations. For instance, there were organizations that stopped funding Taiwan's assistance program in this case. He urged members across all sectors to unite and push for institutional transformation that facilitates the work of civic organizations with a "human-centered" approach as outlined in the NSP.

Quoting Mr. Abbott's speech at the Yushan Forum, "Nothing is more pressing now than solidarity with Taiwan, if we want a better world," Chairman Hsiao reminded us of the international support that Taiwan has been gaining at these challenging times. Chairman Hsiao concluded his remarks by emphasizing that as Taiwan is facing hostility on the one hand and receiving support from the international community on the other, the society could really benefit from more friendly voices and warm encouragement to maintain a virtuous cycle of benevolence, thereby ensuring a better future for the people across countries and regions.

About Taiwan-Asia Exchange Foundation (TAEF)
Founded in 2018, the TAEF is the first policy-oriented think tank in Taiwan focusing on Southeast Asian and South Asian affairs. In the spirit of the New Southbound Policy (NSP), the goal of the TAEF is to promote comprehensive ties between Taiwan and the 10 ASEAN countries, 6 South Asian states, as well as Australia and New Zealand through cooperation and exchanges in 5 major fields – including youth leadership, civil societies, think tanks, regional resilience, and cultural exchange – to consolidate a sense of regional community in Asia and establish long-term cooperative partnerships. In addition, the TAEF hosts various international conferences – including the Yushan Forum: Asian Dialogue for Innovation and Progress – with the aim of strengthening ties with New Southbound Policy partner states and societies, while also inviting other like-minded countries to participate in the regional dialogue.
About Asia Engagement Consortium (AEC)
To facilitate the NSP and realize Taiwan's regional strategy for Asia, the AEC, initiated by TAEF, is an interdisciplinary alliance of think tanks and NGOs. The primary purpose is to facilitate synergy among leading think tanks in Taiwan and neighboring countries in Asia. Other than TAEF, its members include: Taiwan External Trade Development Council (TAITRA), Taiwan ASEAN Studies Center, Chung-Hua Institution for Economic Research (TASC), National Culture and Arts Foundation (NCAF), The Prospect Foundation, Center for Southeast Asian Studies, National Chengchi University (CSEAS), Taiwan Alliance in International Development (Taiwan AID), Taiwan Foundation for Democracy (TFD), Center for Vietnamese Studies, National Cheng Kung University (CVS), and Center for Austronesian Culture, National Taitung University (CAC)