Written by Alan H. Yang, Jeremy Chiang & Sherry Liu
Taiwan's forum diplomacy has kicked into high gear in recent years, with non-governmental sectors playing an increasingly important role. And with the advancement of President Tsai Ing-wen's New Southbound Policy, Taiwan's civilian sector has also increased focus on developing cooperative relations with Southeast Asia, South Asia, New Zealand and Australia, highlighting the social links between Taiwan and the region.
Taiwan's civil society has accumulated a certain amount of energy over the past few decades to develop large-scale international conventions, regional forums or conferences. For example, the Taiwan External Trade Development Council (TAITRA) hosts various investment and business summits, which include the Taiwan Expo, the Global Harbor Cities Forum in Kaohsiung, and the Smart Asia Taiwan Expo & Forum in Taichung. These platforms, which respond to international trends and highlight Taiwanese advances, have become vehicles to display Taiwan's soft power and obtain international support.
Of course, for Taiwan, the government and civil society not only wants to showcase soft power through international forum diplomacy, but to actively build more regional or international platforms, which may assist in embedding Taiwan within mega regional or international networks of collaboration. This will enable Taiwan to flexibly deal with the limitations of Cross-Strait relations and Beijing's political and diplomatic coercion.
While perhaps soft power is merely a strategic operation that showcases Taiwan's attractiveness, this island country's de facto existence and long-term contribution to the international community actually represents a certain "warm power". For too long, Taiwan has shied away from sharing its own positive contributions that are unknown to but worthy of sharing with the international society.
Beijing's suppression and coercion against Taiwan demands to shape an ideology and image that Taiwan is an appendage of China, blocking Taiwan's exchanges and cooperation with governments, multinational companies and even cities around the globe, squeezing the island to the edge of the international community and taking advantage of this to annex Taiwan as part of Chinese territory.
The island has been learning for decades how to develop pragmatic and meaningful partnerships while balancing national dignity and the comfort level of international partners. Of course, the various international forums and conferences that Taiwan has handled in recent years stem from the response and support extended by the international society. It shows that not only are exchanges with Taiwan harmless, they also assist in promoting common interests that benefit the people and the region.
Following the National Day in 2017, Taiwan also hosted the "Yushan Forum: Asian Dialogue for Innovation and Progress", hoping to demonstrate the significance of "cooperation" and "partnership" to Taiwan and Asia through this international platform. This forum has expanded from the original six themes to eight, and hopes to work with global partners to highlight talent cultivation, industrial innovation, regional agriculture, medical and public health cooperation. In addition, the Yushan Forum extends the government's partnership into civil society, think tanks, youth leaders and cultural institutions.
More recently, the 2018 Yushan Forum had more than 1,000 participants from neighboring countries. The forum featured 51 representatives from 17 countries, including international leaders such as two Nobel Peace Prize laureates, Frederik Willem de Klerk and Kailash Satyarthi. Their support and expectation for Taiwan showcased the nation as a model for maintaining peace, promoting sustainable development and reform within international society.
The existence and promotion of the Yushan Forum represents the "warmth" of Taiwan, which aims to break down hard power political competitions and translate into mutual "warm power" exchange. Despite this positive intention, just because it is still an international forum hosted by Taiwan, many unwarranted pressures still fall upon it from across the Taiwan Strait.
The transformation of international forum diplomacy is a microcosm of Taiwan's contribution to the international sphere, a contribution which also seek for more support and input. It also illustrates the resilience of Taiwan in the face of diplomatic difficulties. Undeniably, Taiwan's international forum diplomacy is also facing dilemmas. It needs more international publicity to let foreign friends and the Taiwanese people understand the importance of Taiwan's perpetual existence, and the win-win outcomes of partnering with the island country. Nevertheless, Taiwanese society also needs to adopt a more practical mindset and approach in examining Taiwan's diplomatic efforts against the pressure imposed by Beijing. It is not appropriate to constantly highlight flamboyant titles such as "huge diplomatic breakthrough" when dealing with foreign affairs.
Speaking about Taiwan's participation in the international society should not be difficult in the first place. This helps to highlight the island's long-term efforts and contributions to international development. Taiwan's contribution and participation should be respected. It should not be a political taboo for the international society to acknowledge these contributions.
Today, when the voices of Taiwan and its people are being devoiced by powerful external forces, the selfless support and encouragement extended from international friends has never been more precious.
Dr. Alan Hao Yang is Executive Director of Taiwan-Asia Exchange Foundation (TAEF). He also serves as Deputy Director of the Institute of International Relations (IIR) and Executive Director of the Center for Southeast Asian Studies (CSEAS) at National Chengchi University, Taiwan.
Jeremy Huai-Che Chiang serves as research assistant in the Taiwan-Asia Exchange Foundation (TAEF) and the Project Leader of TAEF Brief. His previously interned with the Australian Institute of International Affairs and the Ministry of Foreign Affairs (Taiwan).
Sherry Liu is Director of Taiwan-Asia Exchange Foundation (TAEF)'s Department of International Cooperation. Prior to joining TAEF, Ms. Liu was research associate and project coordinator at CSCAP Taiwan Participatory Group and Center for Southeast Asian Studies, National Chengchi University, Taiwan.
Image description: Nobel Peace Prize laureate Kailash Satyarthi of India speaking at the 2018 Yushan Forum.

This article is published on Taiwan Insight (https://taiwaninsight.org/2018...)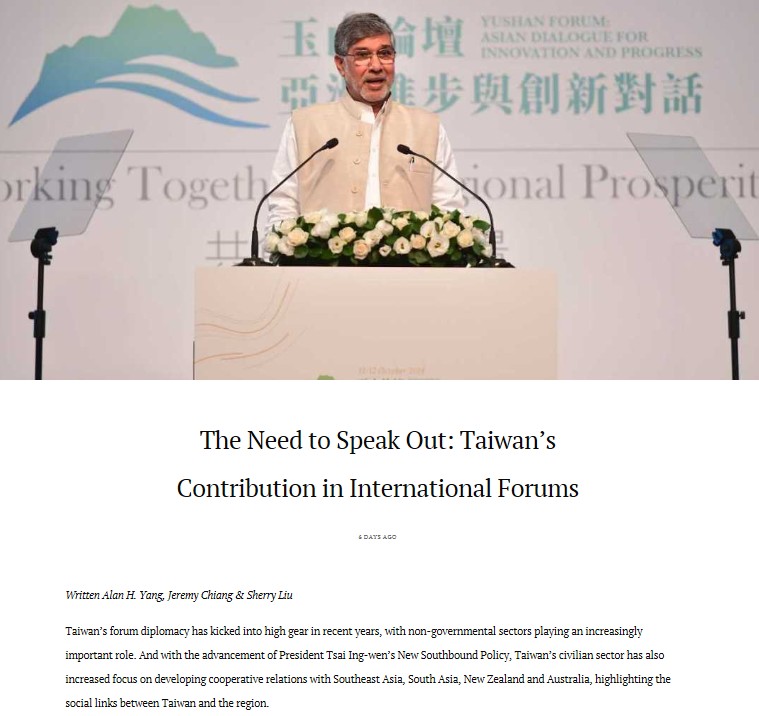 Photo Credit: Taiwan Insight.