Written by Alan H. Yang, Jeremy Chiang and Sherry Liu.
In the past few decades, Taiwan has experienced an extremely challenging diplomatic onslaught, which has seen its formal diplomatic allies decline from 68 countries in 1969 to only 17 today. The reason is beyond obvious: The "China factor" and existent structural limitations in Cross-Strait relations. Whether it be an intention to join an international organization, or a will to pursue international cooperation opportunities, and even when it merely pertains to aid projects, Taiwan has to go back and forth, seeking a low-profile for the purpose of not making its international allies pick sides and face Beijing's political pressure.
It is extremely difficult for Taiwan to not only fight for diplomatic relations, but to also maintain existing formal ties. For decades, Taiwan has faced numerous limitations in participating key international forums and regional dialogues (whether intergovernmental or civilian). Whether it be the name of the country, limitation on issue-areas, or the number of delegations and participants, the pressing involvement of the "China factor" has indeed made the term "Taiwan" a problem for international forum and conferences, not to mention the "Republic of China."
For example, compared to other regional powers such as the United States, Japan or China, who send delegations the size of a dozen or twenty some representatives, Taiwan has no access to direct large delegations to participate in track-one United Nations related meetings, while participation in track-two events such as the Shangri-La Dialogue or the Asia-Pacific Roundtable are also limited.
Participating in international forums and regional dialogues is of strategic importance to Taiwan. First, through being involved in international epistemic communities, Taiwan acquires crucial information pertaining to issues of global political economy, security dynamics, and regional development. Second, through the exchange of ideas and the communication of shared ideas, Taiwan is able to make more like-minded friends, and can promote partnerships through tangible action. Third, through voicing concerns internationally and active engagement, Taiwan can express these issues as well as its national interests to the international community.
Since the dawn of the Cold War, Taiwan has devoted considerable effort to the cultivation of its forum diplomacy. As Taiwan's government is often unable to enjoy the treatment of "normal countries", the energy showcased by various Taiwanese academic institutions, research units or think tanks in international networks have become an important boost to Taiwan in achieving the three objectives laid out above.
For example, the Institute of International Relations (IIR) at National Chengchi University was the main driver in developing Taiwan's track II diplomacy or think tank diplomacy during the Cold War. Several bilateral and multilateral flagship forums and dialogues, such as the Taiwan-US Conference on Contemporary China Studies, the Taiwan-Japan Dialogue, the Taiwan-European Conference, the Taipei-Seoul Forum, the India Forum, the ASEAN-ISIS-IIR Dialogue, and even the African Forum have been hosted by IIR throughout the years. By hosting related forums in Taiwan and abroad (such as the United States and European countries, Japan, South Korea, Malaysia, Singapore, the Philippines, Indonesia, or Vietnam), the international epistemic communities were aware of Taiwan's geo-strategic importance, whilst also shaping common concerns and shared interests with the island country.
In the Post-Cold War era, there have been increasing numbers of think tanks and academic institutions shouldering think tank diplomacy roles for Taiwan, such as the Prospect Foundation which facilitates the "Ketagalan Forum: Asia Pacific Security Dialogue" and the "Indo-Pacific Security Dialogue", the Taiwan ASEAN Studies Center at the Chung-Hua Institution for Economic Research (CIER) which focuses on international conferences related to ASEAN Economic Community, and the Institute for National Policy Research's recent "Asia-Pacific Think Tank Summit".
At the same time, the old-time forum diplomacy champion in Taiwan, IIR in partnership with the Center for Southeast Asian Studies at National Chengchi University, have turned to cultivating institutionalized international cooperation networks since 2016. This strategic shift has enabled academic networking and think tank diplomacy to become more coherent and substantial in terms of consolidated institutional partnership as well as new input and engagement of young fellows.
Furthermore, the CSEAS has joined the Consortium of Southeast Asian Studies in Asia (SEASIA) since 2017, and is currently serving as its Secretariat. It will organize SEASIA Conference 2019 alongside 10 other countries and 13 distinguished Asian studies centers around the world. This event is estimated to attract the attendance of several hundred to over a thousand Southeast Asian and Asian studies experts.
More recently in 2018, IIR has also started to organize the International Consortium of Contemporary China Studies, with specific focus on expanding transnational cooperation with China studies and East Asian studies' institutes in the United States, Canada, Australia and Japan. This collaboration is occurring with the aim of shaping new regional intellectual communities through holding flagship conferences.
After 30 years, Taiwan's operation of think tank diplomacy and forum diplomacy has quietly changed. The specific practice of international forum diplomacy has begun to have more comprehensive regional links, in addition to small and medium-sized political, economic, diplomatic and security policy dialogues. The achievement of international forum diplomacy would strategize Taiwan's presence and contribution in a more pragmatic way.
Dr. Alan Hao Yang is Executive Director of Taiwan-Asia Exchange Foundation (TAEF). He also serves as Deputy Director of the Institute of International Relations (IIR) and Executive Director of the Center for Southeast Asian Studies (CSEAS) at National Chengchi University, Taiwan.
Jeremy Huai-Che Chiang serves as research assistant in the Taiwan-Asia Exchange Foundation (TAEF) and the Project Leader of TAEF Brief. His previously interned with the Australian Institute of International Affairs and the Ministry of Foreign Affairs (Taiwan).
Sherry Liu is Director of Taiwan-Asia Exchange Foundation (TAEF)'s Department of International Cooperation. Prior to joining TAEF, Ms. Liu was research associate and project coordinator at CSCAP Taiwan Participatory Group and Center for Southeast Asian Studies, National Chengchi University, Taiwan.
This article is published on Taiwan Insights (https://taiwaninsight.org/2018...)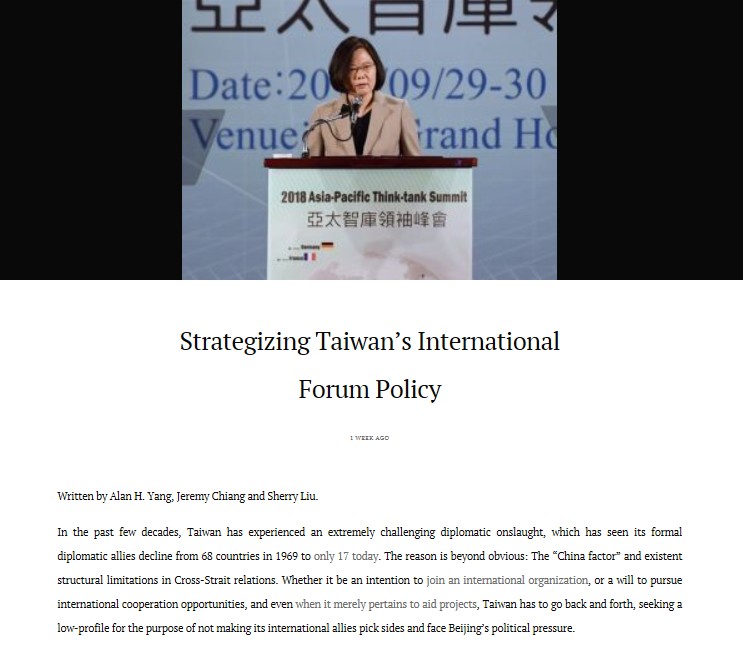 Photo Credit: Taiwan Insight.