By Alan H. Yang and Jeremy Chiang
China's 'charm' offensive on Taiwan's autonomy has gone up a level in recent months. Starting from 1 September, Beijing has allowed Taiwanese who have lived in China for more than six months and are legally working, living or studying in the country to apply for a residence card entitling them to certain rights and benefits in areas such as social insurance, transportation, education and financial services.
Many have criticised this as an attempt to further 'domesticise' Taiwan, and as applicants need to leave their fingerprints during the application process, Taiwanese government officials, NGO groups and academics have expressed concerns about the impact of this measure on Taiwan's national security and the safety of Taiwanese nationals in China.
China is using its weight in the international arena to wage attacks on Taiwan's status and reputation.
The residence card policy is hardly an isolated tactic. Beijing has also recently indicated that Taiwanese residing in China who plan to visit Taiwan to celebrate the Republic of China's National Day on 10 October may face certain consequences. Combined with the residence card policy, this is China's upgraded 'carrot and stick' approach in forcing Taiwanese to pick sides.
Taiwanese society is increasingly divided over how to respond, with radicalisation on both ends of the independence-unification political spectrum heating up the already partisan political climate. China's successful diplomatic offensive over five Taiwanese allies (Burkina Faso, the Dominican Republic, Sao Tome and Principe, Panama and El Salvador) since 2016 has contributed to further polarisation of the Taiwanese debate, with Taiwan's main opposition party continuously pointing fingers at the Tsai Ing-wen government instead of China's hardnosed aggression.
While several Taiwanese legislators have proposed to freeze household registration or revoke Taiwanese citizenship for anyone who takes up the Chinese residence card, many in Taiwan now see these inducement strategies in a more positive light. The Taiwan Affairs Office in Beijing has claimed that more than 22,000 China-based Taiwanese obtained the residence cards in the first 10 days of September.
Experts were correct to argue that young Taiwanese were centre to the Sunflower Movement in 2014 and Tsai's electoral triumph in 2016, but stagnating wages and rising business opportunities in China have also pushed many young Taiwanese across the Strait in recent years. These trends have caused significant changes in the composition of the Taiwanese population in China, with young white-collar urbanite Taiwanese gradually replacing Taiwanese seniors who work in remote factories, prompting experts to warn of a "brain-drain" of Taiwanese talent to China.
But if it were only the question of how to win the hearts and minds of young Taiwanese, the challenge would have been much easier for Taiwan. Instead, China has efficaciously exploited the authoritarian nostalgia and Chinese nationalism of some Taiwanese – especially among the pro-unification factions and even some retired military generals – feeding them with intense propaganda on Chinese socio-economic advances, and also Taiwan's existing difficulties and developmental limitations. This has encouraged the rhetorical radicalisation of some pro-unification Taiwanese.
This propaganda has been provided not only via pro-China news outlets in Taiwan, but also via websites (many with alleged Chinese backgrounds) that deliberately spread fake news. This has increasingly become a concern to Taiwanese officials and the general public.
A recent investigative report by Al Jazeera, Taiwan: Spies, Lies and Cross-straits Ties, has also served as a reminder of another crucial hazard for Taiwan's democracy: Chinese spies and collaborators. The report revealed how certain pro-China organisations and parties in Taiwan have been used as vehicles to project Chinese influence and financial resources onto the island, while validating the presence and role of Chinese spies and local Taiwanese collaborators in collecting intelligence for China.
China's creeping influence and strategy of polarising Taiwan's democracy is a prelude of what a possible 'Chinese Century' might look like. Taiwan is not an isolated case, as China's growing impact towards Australia and other countries (via legal and illegal channels) are in the same vein.
China plays an increasingly active role in intimidating politicians and shaping local opinion in neighbouring countries, which acts as the 'soft arm' of Beijing's military ambitions in the region. Taiwan's predicament symbolises the changing currents of Indo-Pacific geopolitics. There is still time for liberal democracies to turn the tide, but a delayed recognition of Chinese intentions will only serve Beijing's interests.
China is using its weight in the international arena to wage attacks on Taiwan's status and reputation, including a recent state-supported mass media campaign (with poor evidence) on alleged 'Taiwanese spies' recruiting Chinese university exchange students in Taiwan. Regional countries should recognise that Taiwan's interest in peace and stability is also their national interest.
* This Article is published on Lowy Institute. https://www.lowyinstitute.org/...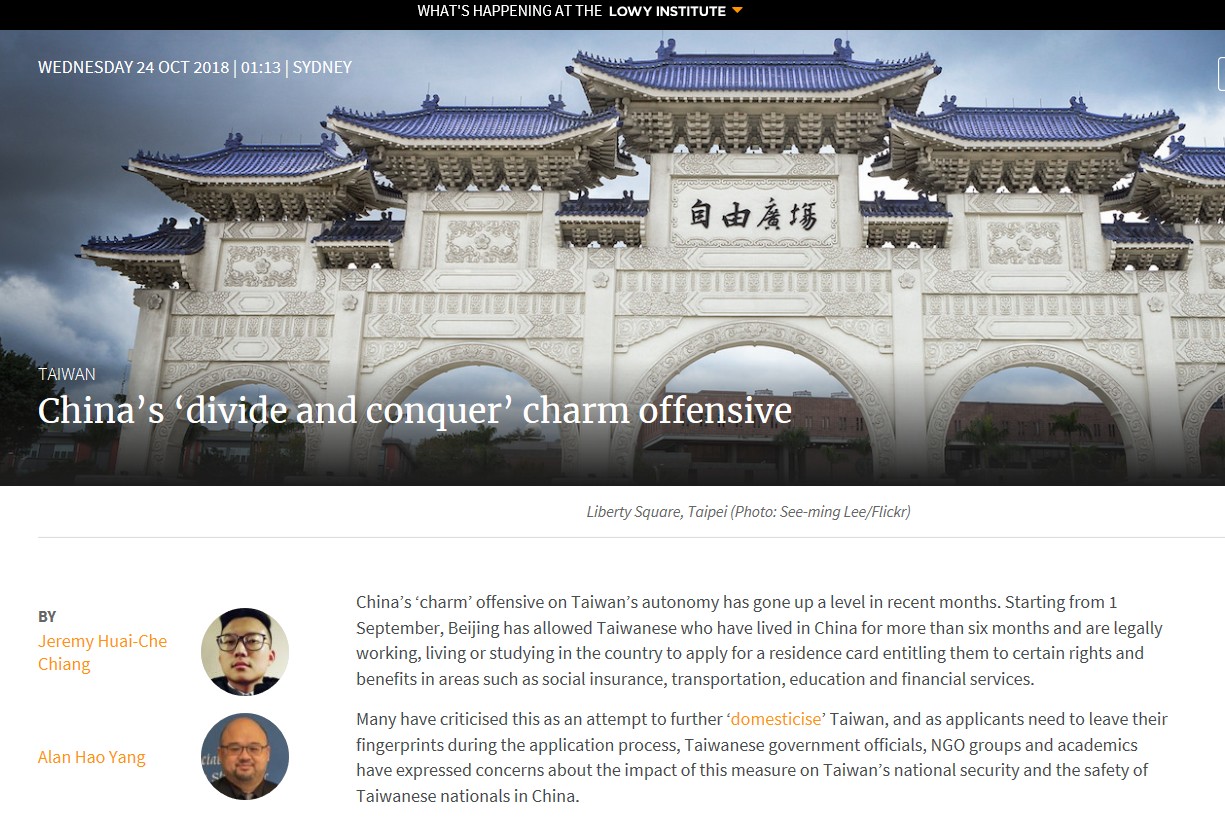 Photo Credit: the Interpreter.