By: H.H. Michael Hsiao and Alan H. Yang
H.H. Michael Hsiao is the chairman of the Taiwan-Asia Exchange Foundation. He is also a distinguished research fellow at the Institute of Sociology, Academia Sinica, Taiwan. Alan H. Yang is the executive director of the Taiwan-Asia Exchange Foundation, and the deputy director of the Institute of International Relations at the National Chengchi University in Taiwan.
Taiwan needs a strategy for a "free" and "open" Indo-Pacific region. This strategy should feature Taiwan's strategic importance in the emerging Indo-Pacific politico-economic order. As one of the most developed economies in the region, Taiwan serves as a model for developing countries in the Indo-Pacific, especially in terms of economic scale, technology, international influence, regional trade, and investment ties. According to Lowy Institute's 2018 Asia Power Index, Taiwan ranks No. 15 among the 25 listed Asian countries, and it is rated as an Asian "middle power." Taiwan also ranks No. 8 and No. 12 in indicators such as "Economic Resources" and "Economic Relationships" respectively. Yet, Taiwan's strategy for the free and open Indo-Pacific region must balance its internal and external development needs, as well as other international dynamics. For domestic growth, this means sustainable growth for Taiwan's national development and socio-economic transformation. As for its foreign relations, an actions-oriented "free" and "open" Indo-Pacific strategy must enhance Taiwan's presence as well as its people-centered blueprint in defending common interests and implementing specific cooperation with neighboring states and like-minded countries.
Taiwan's Strategic Interests in a Free and Open Indo-Pacific
Taiwan has three strategic interests that guide its vision for regional developments in the Indo-Pacific region: inclusivity, civil society, peace and stability.
First, a "free" and "open" Indo-Pacific should emphasize liberal values in the geo-political and economic context. In other words, a free and open Indo-Pacific should uphold the spirit of "open regionalism," and the resources and prosperity within the region should not be the exclusive domain of one country. Since Taiwan has been a responsible participant in regional developments, Taiwan should be included within an inclusive Indo-Pacific regional security architecture.
Second, a "free" and "open" Indo-Pacific cannot only be and depend upon the rhetoric of political elites. The idea of a "free" and "open" Indo-Pacific must be forged through consensus and built into the expectations of the region's four-billion-people to pursue common prosperity. It took five decades for ASEAN to lead and promote community awareness in Southeast Asia, and continue to build connectivity between infrastructures, institutions and its people. For there to be such a community in the Indo-Pacific, it must first delineate clearly shared interests and common values. Such consensus are difficult to be promoted only by governments, and there is a critical role for transnational civil society. Taiwan's vibrant and pluralistic society, whether in the realm of business networks or civil society groups, has long been a key node in the civil society networks in the Indo-Pacific region. If Taiwan government can continue to strengthen its common understanding and partnerships with the business and civil society sectors of neighboring countries and like-minded states, especially in terms of good governance, economic transformation, mutual understanding and exchange, we will be able to foster civilian interests and well-being among all.
Third, peace and stability are key to a sustainable strategy for a "free" and "open" Indo-Pacific region. Yet, there needs to be tangible action plans on how to promote regional peace and stability. Taiwan's shared commitment with stakeholders of a "free" and "open" Indo-Pacific in the realization of regional development and co-prosperity visions is neither a response to diplomatic pressure or political threat imposed by Beijing, nor short-term expedient measures to cross-Strait challenges.
Since 2016, the Taiwan government has actively promoted the New Southbound Policy (NSP) as a long-term commitment and actions-oriented response for Indo-Pacific collaboration and strategic realignments with neighbors. With the NSP now entering its third year, there have been strengthened support for this policy by the government and civil society. There are more government-supported initiatives and civil society participation responding to the strategic rationale and flagship programs of the NSP, which will further translate into new partnerships in the areas of economic and social development, such as public health, investment and trade, education and talent cultivation, regional agriculture, and non-governmental exchange and collaborations, enabling this policy to support Taiwan as a pillar for promoting regional peace and stability.
Taiwan's Geostrategic Importance in a Free and Open Indo-Pacific Region
There are at least four factors that underscore Taiwan's geostrategic importance for the Indo-Pacific region.
First, from a geo-security perspective, Indo-Pacific conflict hot-spots from the Korean Peninsula in the north to the South China Sea are all near Taiwan. Taiwan is an important stakeholder, especially in the case of security and stability in the South China Sea and the Western Pacific, while also being a "stabilizer" of unstable dynamics. According to the 2018 Asia Power Index, Taiwan ranks No. 11 in "Military Capability" and No. 15 in "Defense Networks" respectively, exemplifying why Taiwan's military and national defense capabilities cannot be underestimated. What is also worth noting is that Taiwan has never used its military power as a weapon to intimidate or coerce its neighboring countries. Rather it has taken a firm and constructive stance in contributing to Indo-Pacific security governance. The active roles undertaken by Taiwan's military in humanitarian assistancehas especially been the case, which have enhanced the stable functioning of the regional security architecture.
Second, from a geo-democratic perspective, Taiwan's rich experience stemming from three transition of power between political parties, peaceful power transitions and its practice of democratization serve as an important example of democratic transition and political development to its Indo-Pacific neighbors. Taiwan is willing to share its experiences in several decades of democratic governance, especially in areas of transparency, accountability, and the functioning of a mature civil society. The Taiwan Foundation for Democracy has showcased Taiwan's empowering contributions to Indo-Pacific democratic development, whether through its Asia Democracy and Human Rights Award or its long-time support of Asian civil society young leaders.
Third, in terms of a geo-economic perspective, Taiwan has actively participated in APEC and other regional economic groupings since the 1990s, acting as a leader and facilitator in areas such as small and medium sized businesses (SMEs), and also digital innovation and transformation more recently. As the government is actively engaging in bridging global and Indo-Pacific regional economic integration, Taiwan has had shown its continuous interest in diversifying participation and contribution in mega regionalism projects such as TPP, CPTPP and RCEP, and also deepened engagement in local business and regional production networks. Not only do these actions pertain to the interest of Taiwan's external trade and economic strategy, but they also succeed in meeting the overall needs of Indo-Pacific economies.
Fourth, from a geo-development perspective, which is NSP, the sustainability of this island will also positively accompany and facilitate the prosperity and growth of Indo-Pacific regional community. Its decades of experience, especially in upgrading traditional agriculture to smart agriculture, promoting innovative industries' regional linkages, medical and public health development, and the cultivation of higher education talents, are all key areas that countries and societies in Southeast Asia, South Asia, and the Indo-Pacific are vigorously acting upon. Viewing Taiwan's experience from a geo-development perspective, clearly Taiwan is not merely a pure experience-sharing case, but a strategic reference for the development of neighboring countries.
Next Steps in the Indo-Pacific Architecture
Taiwan faces a complex geo-political and geo-economic environment. While the "free and open Indo-Pacific" has become somewhat of a buzzword for foreign policy debates and regionalization processes and the definition of each free and open "Indo-Pacific" strategies may be different, there appears to be an emerging consensus on the importance of the Indo-Pacific region. Of course, many commentaries warn about over-emphasizing the "Indo-Pacific" discourses of major powers, this might negatively impact the centrality of ASEAN and its member states. Indonesia, as the de-facto leader of ASEAN, has especially been concerned about this, while making attempts to stress ASEAN unity and centrality in its recent Indo-Pacific concept articulations.
The Taiwanese input of the Indo-Pacific strategy can be an enhanced version of the NSP upgrading towards a new regional strategy for Asia, and it is a pathway to co-sharing and co-existing with contending Indo-Pacific strategies or approaches. Based on the flagship programs and ongoing initiatives set by the NSP, Taiwan can strategize its contribution in the Indo-Pacific region, and embed its national interests, sovereignty and security in the Indo-Pacific architecture while obtaining more support.
At the opening ceremony of the Taiwan-Asia Exchange Foundation (TAEF) on August 8, 2018, President Tsai Ing-wen has emphasized that "the NSP is reshaping Taiwan's regional strategy for Asia, and through people-to-people exchanges, Taiwan and Asian countries will form a more active and diverse partnership, while making good friends for long-term cooperation." And during the 2018 Indo-Pacific Security Dialogue hosted by the Taipei-based Prospect Foundation on August 30, which invited members of Congress and experts from the United States, Japan, and Taiwan to jointly discuss the development and future of Indo-Pacific security, Foreign Minister Joseph Wu also addressed that Taiwan is an ideal partner for the Indo-Pacific strategy during his keynote speech.
While it is true that the NSP Promotion Plan and Work Plan in line with ongoing flagship programs all emphasize the importance of 18 neighboring states, the actual scope of cooperation and partnership relations in policy implementation have gone way beyond the limits of geographical contexts.
The current collaboration will be extended to like-minded stakeholders in the Indo-Pacific architecture such as the United States, Japan, and Europe.Taiwan looks forward to strategizing continuous promotion and expanding regional influence of the New Southbound Policy, which will highlight the country's respect for the inclusiveness of the Indo-Pacific regional architecture, and present an Asia-focused regional community with development as its consensus, co-prosperity as its goal, and synergy as its framework.
The main point: Taiwan has three strategic interests that guides its vision for regional developments in a free and open Indo-Pacific region: inclusivity, civil society, peace and stability. Taiwan's contribution towards the free and open Indo-Pacific can be an enhanced version of the NSP.

This article was published on Global Taiwan Brief VOL. 3, ISSUE.
http://globaltaiwan.org/2018/0...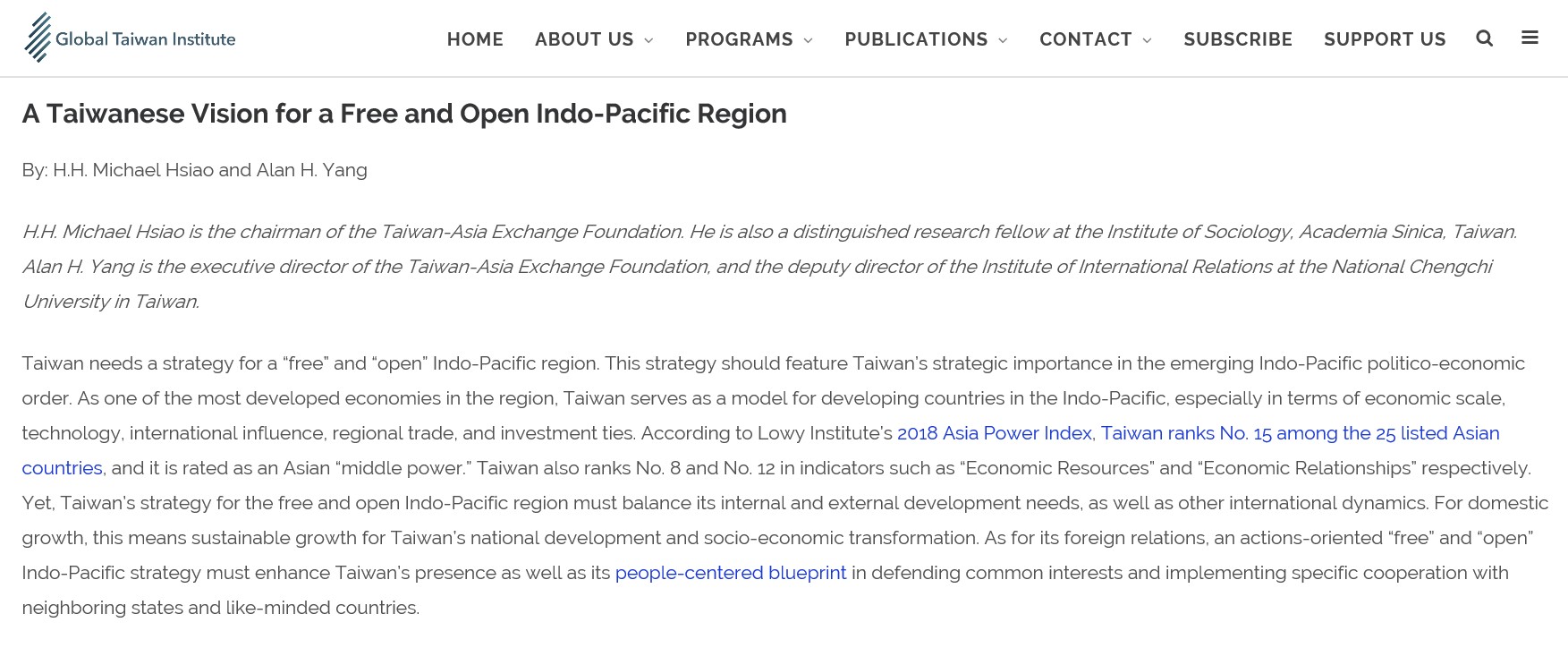 Photo Credit: Global Taiwan Brief.