Entering its third year, the 2019 Yushan Forum, centered on "Deepening Progressive Partnerships in Asia," was attended by 30 ambassadors and foreign representatives from 22 countries. The theme focused on the efforts from governmental sectors and non-governmental organizations as a way to demonstrate multi-faceted results of collaborations and partnerships, specifically through sessions on people-centered development agenda sessions, for example, the importance of "Enhancing Technological and Economic Partnerships" which was closely related to the session on "Building Talent Cultivation Partnerships" and another panel on "Promoting Partnerships in Sustainable Development;" these issues reflect the strategic importance of practical collaboration between Taiwan and its neighbors. The two-day forum, held on October 8-9, attracted over 1,000 participants from 31 countries, including 31 international partners from 13 countries serving as panelists.
The Yushan Forum is regional platform for Asian dialogue initiated by Taiwan, with an aim to present public-private partnerships (PPP) throughout the period of implementing Taiwan's New Southbound Policy (NSP). It also seeks to foster collaborative relations and concrete achievements among ministries, social sectors, and international communities. The first day's sessions showed how Taiwan and its neighbors have worked together in recent years to fulfill common developmental demands through institutional cooperation in various aspects, such as technology, industry, talent cultivation, sustainable and social development, bilateral people-to-people interactions, and collaboration among organizations. The second day highlighted frontier issues and identified modalities of cooperation among stakeholders.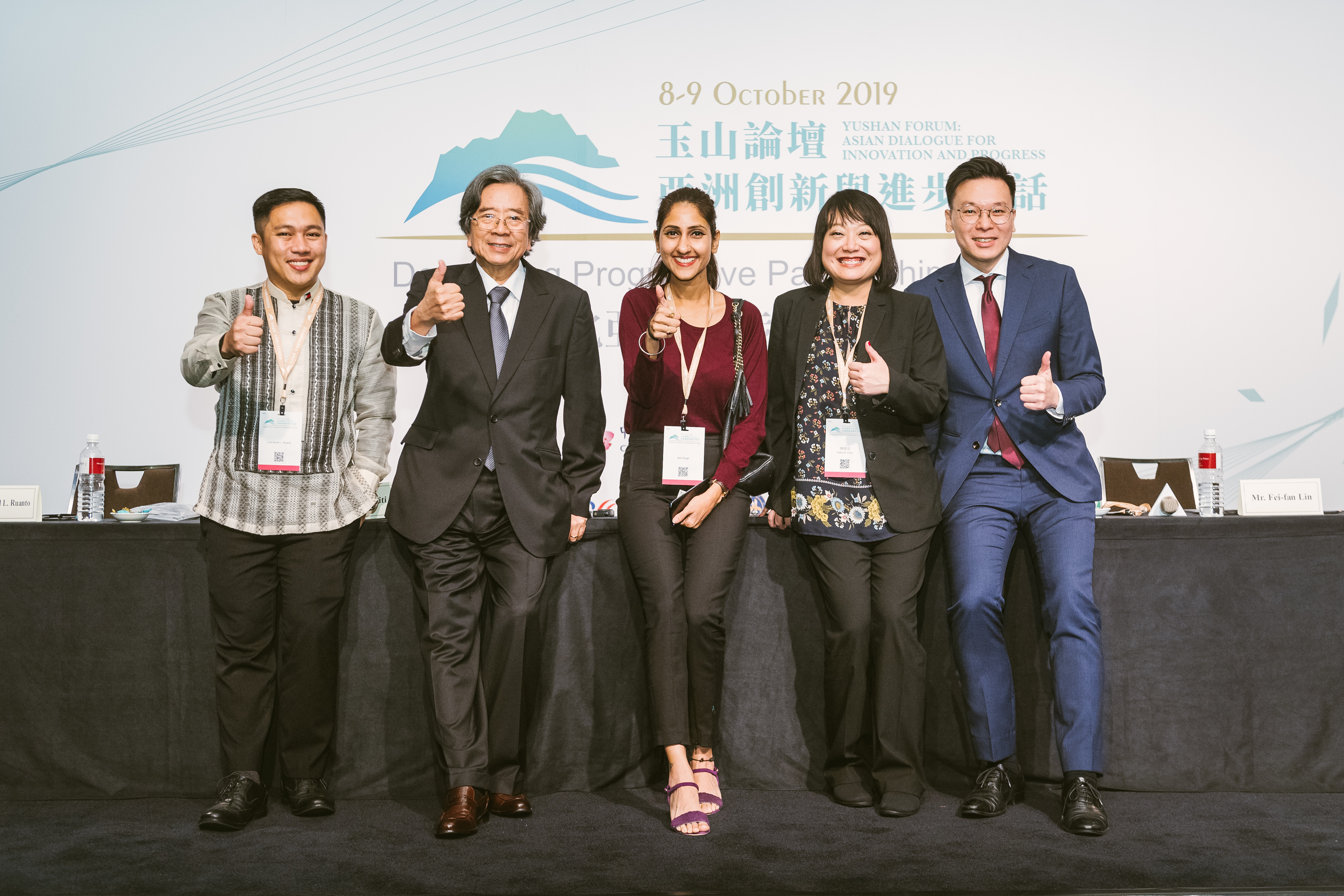 Make Taiwan Visible in the World: Promoting Strategic Dialogue of Home-Field Diplomacy
In addition to Taiwan's NSP partner countries in Southeast and South Asia, representatives from numerous like-minded countries also visited Taiwan to express their support for Taiwan in 2019 Yushan Forum. For instance, former Canadian Prime Minister Stephen Harper emphasized the significance of the Indo-Pacific region and Taiwan's critical role in it. U.S. Deputy Assistant Secretary at the Bureau of East Asian and Pacific Affairs Sandra Oudkirk foregrounded Taiwan's contribution to the global community and the significance of fostering Taiwan's international engagements. President of Japan-ROC Diet Members' Discussion Group Furuya Keiji welcomed Taiwan to participate in the Comprehensive and Progressive Agreement for Trans-Pacific Partnership (CPTTP) in the future. In addition, this year's Yushan Forum featured a delegation of young leaders from nine NSP countries, including Bangladesh, Indonesia, Vietnam, Thailand, India, and Myanmar. All of them passionately engaged in discussions throughout the forum and stimulated fruitful interactions with Taiwan's young leaders.
In the current era where Taiwan has faced severe diplomatic challenges, the multi-faceted and influential achievements of international cooperation demonstrated via the Yushan Forum embody Taiwan's firm will to contribute to Asia and the global community in various aspects, and to create partnerships of progressive values. All these efforts generated and promoted by different sectors in Taiwan's society have culminated in its "warm power," which is the practice of resource/experience-sharing and support for both regional and national development.
Extend Taiwan's Warm Power to the World
There are at least three main features of "warm power" that Taiwan would like to foreground through the New Southbound Policy. First, Taiwan aims to let Asian neighbors feel the good will and warmth of Taiwanese government and people. The NSP focuses on innovative industry, talent cultivation, social interaction, medical cooperation, agricultural development, and cultural exchange—all areas that are pertinent to people's everyday lives. Taiwan endeavors to foster progress in Asia through cooperation and resource-sharing. Through the implementation of the NSP, Taiwanese society works very hard to transforms itself into a Muslim-friendly society to attract visitors from neighboring countries—Taiwan ranked the 3rd most attractive country on Global Muslim Travel Index 2019. Through the promotion of the Taiwan Expo in the region, people are aware of the uniqueness, social development, lifestyle, fashion, and culture of Taiwan in addition to its commodity. People in the region are also recognizing Taiwan as a solution, rather than a problem, to regional stability and national growth.
Second, Taiwan has worked to connect New Southbound partner countries with these sectors in Taiwan as a way to create innovative partnerships. Aside from inter-governmental cooperation, civic collaboration could also shoulder the responsibility of being a member in regional community in Asia. The innovative project of "One Country, One Center (OCOC)" in 7 neighboring countries is not only promoting transnational institutional cooperation among medical centers in Taiwan and the region, but also enhancing the medical talents/personnel training for a better future of regional public health and national healthcare system.
Third, Taiwan attempts to establish long-standing models of cooperation through institutional collaboration and people-to-people interactions. Instead of carrying out one-time collaborative projects, Taiwan hopes to stimulate long-term and stable institutionalized collaborative frameworks, and put them into practice to create substantial and enduring benefits for international working partners. The establishment of agricultural demonstration farms in Indonesia and the Philippines creates a new framework of collaboration to benefit the rural localities and agricultural industry; it also improves the income of local farmers.
Regional Resilience Should be Emphasized in Asian Cooperation
Through the dialogue and discussion in the 2019 Yushan Forum, it is noticeable that Taiwan and other Asian countries have shared similar development goals, which center primarily on the idea of (disaster) resilience. Since 2019 marks the 20th anniversary of the disastrous Jiji earthquake and the 10th anniversary of the destruction of Typhoon Morakot, Taiwan has taken into serious consideration the cooperation of disaster preparedness and resilience, and concentrated on strategies of how Asian countries and societies could work together to manage natural disasters. Taiwan's neighboring countries, such as Japan, the Philippines, and Indonesia, have all faced similar challenges derived from natural disasters. Representatives from these countries thus took advantage of the Yushan Forum to exchange their opinions on practices and collaborative models of current Asian partnerships in disaster prevention. They focused on substantial issues, including resilient communities, intelligent disaster prevention, disaster relief and reconstruction, and personnel training. This discussion helped to explore future directions of cooperation by sharing experiences of enhancing disaster preparedness and achievements of collaboration.
Since its implementation in 2016 and through the annual Yushan Forum, the New Southbound Policy has been recognized by international partners as a proper direction for Taiwan to cultivate further development and collaboration of the regional community. As President Tsai Ing-wen mentioned in her National Day address, "When the world really sees the beauty of Taiwan, Taiwan will never be alone." Furthermore, we have to build partnerships and share warm power with the global community to let the world understand that going south is an underlying objective that supports Taiwan's development.
This article was published on Foreign Policy Research Institute.